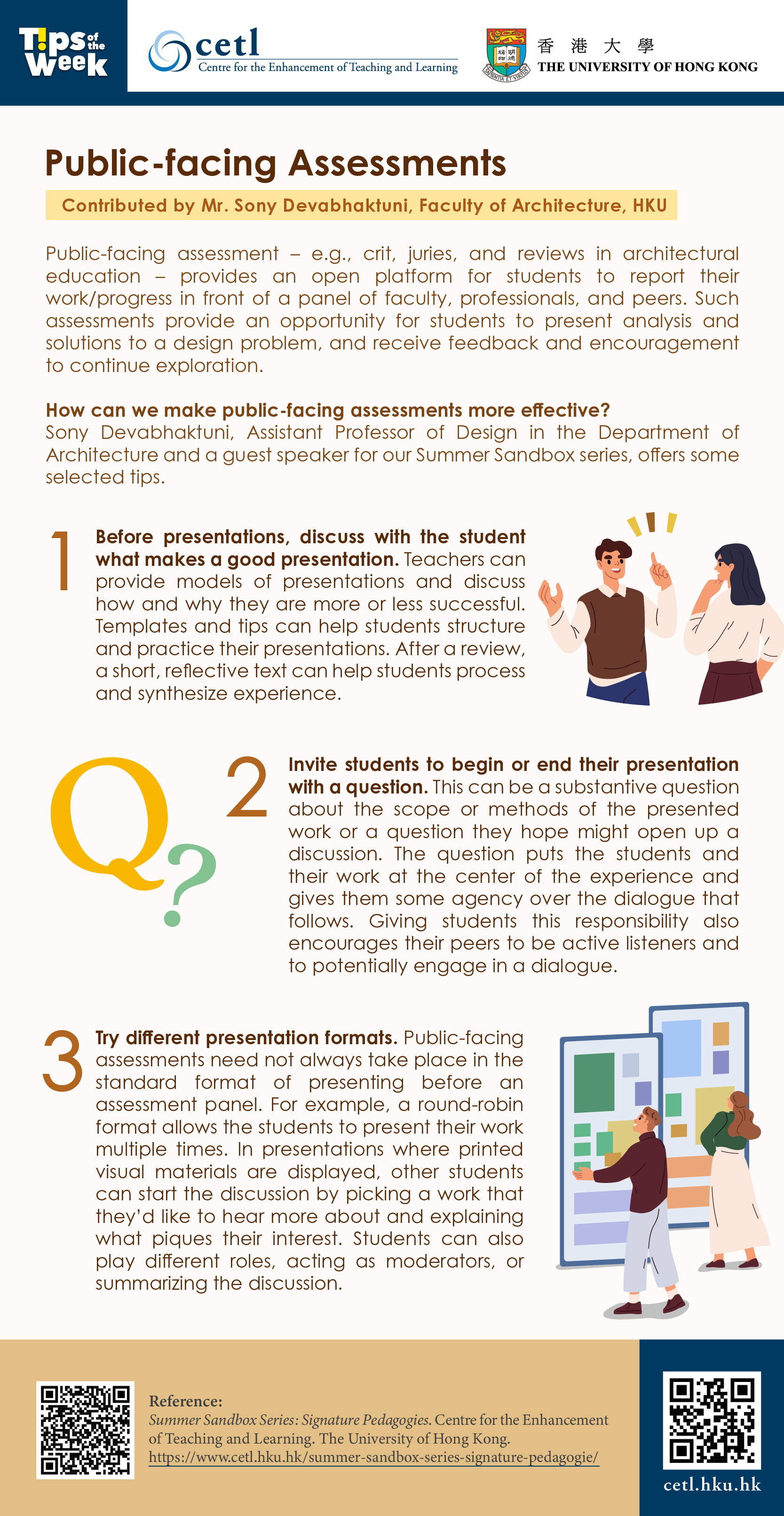 Contributed by Mr. Sony Devabhaktuni, Faculty of Architecture, HKU
Public-facing assessment – e.g., crit, juries, and reviews in architectural education – provides an open platform for students to report their work/progress in front of a panel of faculty, professionals, and peers. Such assessments provide an opportunity for students to present analysis and solutions to a design problem, and receive feedback and encouragement to continue exploration.
How can we make public-facing assessments more effective? Sony Devabhaktuni, Assistant Professor of Design in the Department of Architecture and a guest speaker for our Summer Sandbox series, offers some selected tips.
Before presentations, discuss with the student what makes a good presentation. Teachers can provide models of presentations and discuss how and why they are more or less successful. Templates and tips can help students structure and practice their presentations. After a review, a short, reflective text can help students process and synthesize experience.
Invite students to begin or end their presentation with a question. This can be a substantive question about the scope or methods of the presented work or a question they hope might open up a discussion. The question puts the students and their work at the center of the experience and gives them some agency over the dialogue that follows. Giving students this responsibility also encourages their peers to be active listeners and to potentially engage in a dialogue.
Try different presentation formats. Public-facing assessments need not always take place in the standard format of presenting before an assessment panel. For example, a round-robin format allows the students to present their work multiple times. In presentations where printed visual materials are displayed, other students can start the discussion by picking a work that they'd like to hear more about and explaining what piques their interest. Students can also play different roles, acting as moderators, or summarizing the discussion.
References: