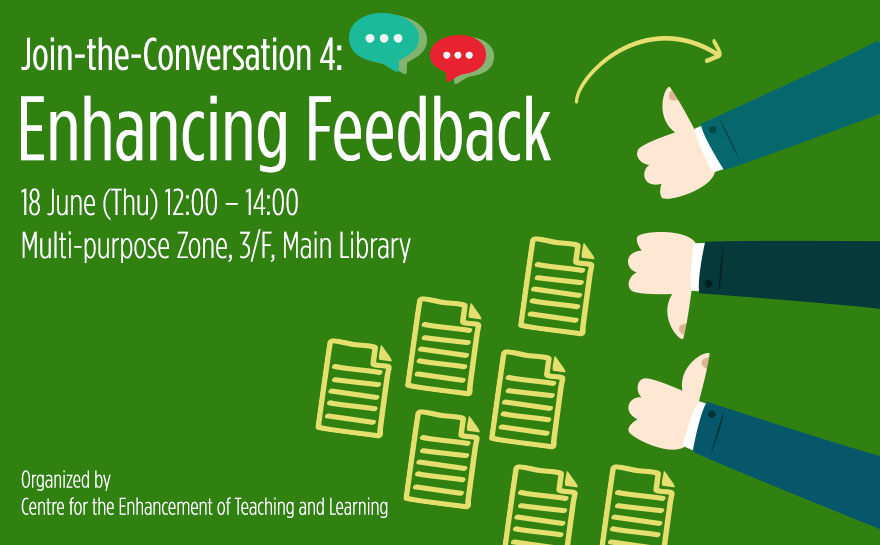 Organized by
the Centre for the Enhancement of Teaching and Learning
Chairperson: Prof Grahame Bilbow, Director, Centre for the Enhancement of Teaching and Learning, HKU
Speaker: Prof Dai Hounsell, Professor Emeritus, University of Edinburgh
Date: 18 June 2015, Thursday
Programme: 12:00 – 12:45 Sharing of HKU students' voices on feedback (video and discussion)
13:15 – 14:00 Flipping Feedback
(Hot lunch will be served.)
Venue: Multi-purpose Zone, 3/F Main Library

Abstract:
As one of the Join-the-Conversation events, and also part of the Wise Assessment Community of Practice project, this particular event focuses on one critical and indispensable aspect of assessment – enhancing the effectiveness of feedback to students on their progress and performance. The aim of this event is to promote discussion about the importance of feedback, its impact on student learning, and the ways of providing and enhancing feedback. Our speaker, Professor Dai Hounsell, will give a talk and invite discussions.
Led by Professor Hounsell, four Wise Assessment Briefings have been compiled on this topic, discussing a range of theories and practices in enhancing feedback, and will be available for participants during the event. In addition, we will also share students' voices about feedback, which were collected from informal interviews with a sample of HKU students on campus.
About the speaker:
Professor Dai Hounsell is Professor Emeritus of Higher Education at the University of Edinburgh. He was the University's Vice-Principal for Academic Enhancement from 2009 to 2012, Vice Principal for Assessment and Feedback from 2012 to 2014, and Professor of Higher Education from 2000 to 2014. He has published widely on assessment and feedback and many other aspects of university learning and teaching, served in various editorial and refereeing roles, and led several multi-institutional higher education research and development projects with external funding. He coordinates the work of the Wise Assessment Community of Practice Project, which is led by the Director of CETL, Professor Grahame Bilbow.
For information on registration, please contact Ms Ivy Lai by email laichun2@hku.hk.