Certificate in Teaching and Learning in Higher Education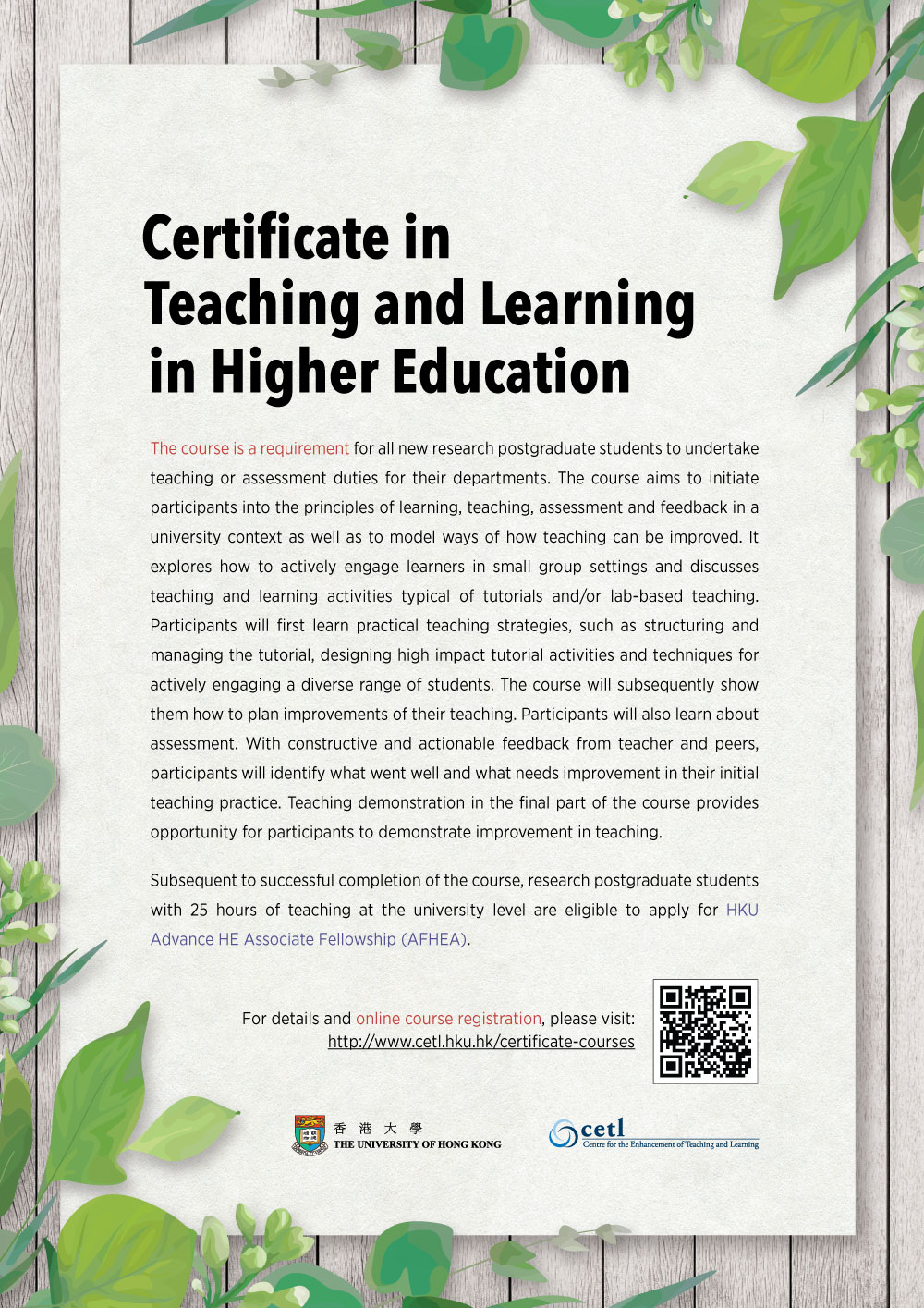 Organized by
Centre for the Enhancement of Teaching and Learning (CETL)
First Semester, 2022-2023
Online registration for certificate course in the first semester starts at 10:00am, 12 August, 2022 (Friday).

Second Semester, 2022-2023
Online registration for certificate course in the second semester starts at 10:00am, 9 December, 2022 (Friday).


The course is a requirement for all new full-time research postgraduate students to undertake teaching or assessment duties for their departments. The course aims to initiate participants into the principles of learning, teaching, assessment and feedback in a university context as well as to model ways of how teaching can be improved. It explores how to actively engage learners in small group settings and discusses teaching and learning activities typical of tutorials and/or lab-based teaching. Participants will first learn practical teaching strategies, such as structuring and managing the tutorial, designing high impact tutorial activities and techniques for actively engaging a diverse range of students. The course will subsequently show them how to plan improvements of their teaching. Participants will also learn about assessment. With constructive and actionable feedback from teacher and peers, participants will identify what went well and what needs improvement in their initial teaching practice. Teaching demonstration in the final part of the course provides opportunity for participants to demonstrate improvement in teaching.
Depending on previous teaching experience, exemptions may be granted (for details on criteria for exemption and procedure, please see 'Guidelines for exemptions, CTLHE').
Subsequent to successful completion of the course, research postgraduate students with 25 hours of teaching at the university level are eligible to apply for HKU Advance HE Associate Fellowship (AFHEA).

Intended Learning Outcomes:
At the end of the Certificate Course, you will be able to:
Describe The University of Hong Kong's expectations in relation to teaching, learning, assessment, and the student experience;
Explain how the role of tutors contributes to an overall agenda of high quality learning experiences for our students;
Relate how tutors'/demonstrators' approaches to teaching, assessment and feedback can influence students' approaches to learning;
Structure tutorials/laboratory classes to support the course intended learning outcomes and assessment;
Apply a range of teaching and learning strategies for facilitating active learning in tutorials or lab-based settings;
Demonstrate effective presentation skills for small group teaching in tutorials or lab-based settings;
Provide actionable feedback to students;
Plan improvements using feedback on your own teaching.
Course Schedule

For information on registration, please contact:
Ms Canice Mok, CETL
Phone: 3917 6069; Email: tsmok@hku.hk.