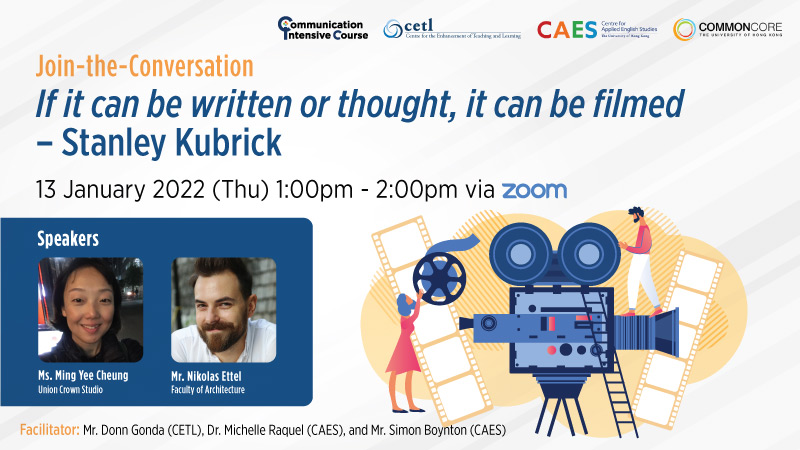 Organised by Centre for the Enhancement of Teaching and Learning, Centre for Applied English Studies, and the Common Core
Details of the Event:
Date : 13 January 2022 (Thursday)
Time : 1:00pm – 2:00pm
Venue : Zoom
Speakers : Ms. Ming Yee Cheung (Union Crown Studio), Mr. Nikolas Ettel (Architecture)
Facilitator : Mr. Donn Gonda (CETL), Dr. Michelle Raquel (CAES), and Mr. Simon Boynton (CAES)

(HKU Portal login required)
Abstract
Video creation is one of the most popular course assessments at HKU as it allows students to enhance written and oral text with visuals, sound, and digital effects. The art of creating a video that successfully communicates ideas and has an impact on the audience is undeniably challenging. This session features a professional film maker and a colleague from the Faculty of Architecture who will share their experience in film creation. It aims to give participants an insight into film making which they can use to help their students produce effective and engaging video assignments in their courses.

About the Speakers
Ms. Ming Yee Cheung has been working as an independent producer/director for the last 10 years. She co-directed two public television commissioned animation shorts, among which Winter Rest (2010) was selected by international film festivals and was awarded Team Award at the 2010 Ecofilms in Rhodes, Greece. Her ADC funded short narrative film This File Cannot Be Deleted (2011) won Special Mention at the Fresh Wave International Film Festival in Hong Kong.

Mr. Nikolas Ettel is a Lecturer in HKU's Division of Landscape Architecture. He coordinates the Faculty Interdisciplinary Courses and teaches the Common Core Course 24 Frames: Communicating Ideas through Film. He is a Dr.techn. Candidate at the Academy of Fine Arts Vienna, where he explores films as an investigative research method. His research is shared in a TEDx talk (HKU, 2021), and has been exhibited and published internationally. Nik's latest exhibition Alleys in Wonderland (PMQ, 2019 + City Gallery, 2021), a Design Trust Seed Grant awarded VR-project was displayed at the Hong Kong Pavilion for the 17th Venice Architecture Biennale 2021.

For information, please contact:
Ms. Lavina Luk, CETL
Phone: 3917 5272; Email: ytluk89@hku.hk