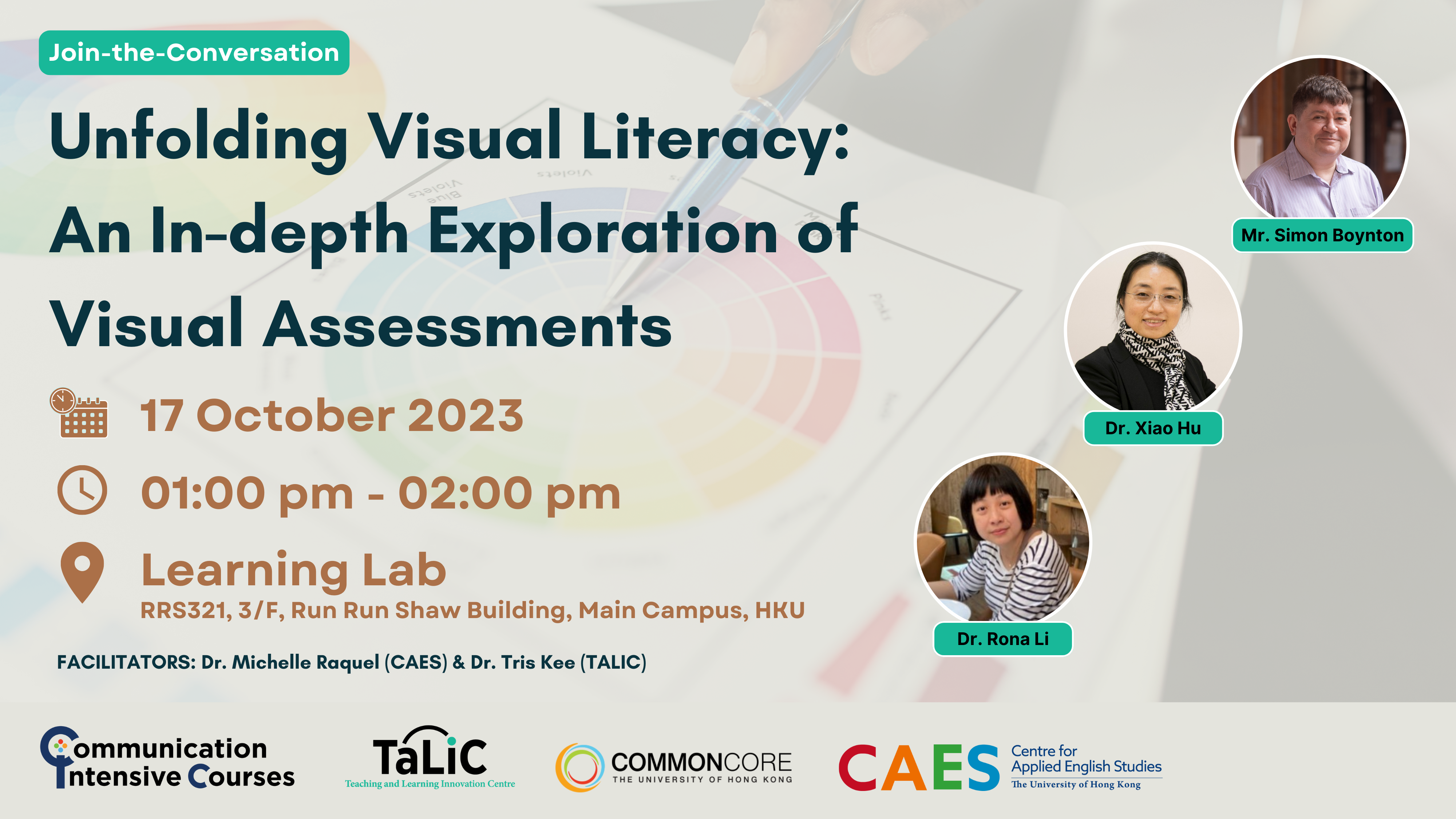 Organized by Communication Intensive Courses (CiC), Teaching and Learning Innovation Centre (TALIC), Common Core and Centre for Applied English Studies (CAES)
Details of the Event:
Date : 17 October 2023 (Tuesday)
Time : 1:00pm – 2:00pm (HKT)
Venue : Learning Lab (RRS 321, 3/F, Run Run Shaw Building, Main Campus, HKU)
Speakers : Mr. Simon Boynton, Dr. Xiao Hu, Dr. Rona Li
Facilitators : Dr. Michelle Raquel (CAES) and Dr. Tris Kee (TALIC)

Abstract
Engage with three specialized courses, dedicated to enhancing discipline-specific visual literacy. Our knowledgeable speakers will talk about teaching and assessment techniques for various visual artefacts. These include slide presentations, pedagogical materials, posters, and VR stories. This event is designed for those seeking to expand their understanding and skills in visual communication. Join us for this enlightening journey.

About the Speakers
Dr. Xiao Hu is an Associate Professor in the Faculty of Education, University of Hong Kong. Her research and teaching focuses are learning analytics, data science, technology-enhanced learning and digitization of cultural heritage. Dr. Hu's work aims to improve people's learning and well-being by leveraging digital technologies and various pedagogies including maker activities. She has been the principal investigator for projects funded by the Research Grant Council (RGC) as well as Teaching Development Grants sponsored by the University of Hong Kong. Her teaching has been recognized by a UGC team teaching award (2019).
Mr. Simon Boynton is a lecturer at the Centre for Applied English Studies. He is currently a member of the CIC Project team and responsible for the professional development activities of the project. He is also currently the CAES Programme Coordinator for the Faculty of Engineering and specializes in teaching English for medicine, engineering and science courses to undergraduate and postgraduate students. He has also been the CAES Programme Coordinator for the Faculty of Medicine and the Faculty of Science. He has been involved in education for over 30 years and has worked in various countries such as Poland, Spain, Argentina, Thailand, Vietnam and Hong Kong. He has extensive managerial and teacher training experience as he was a Centre Manager and a Cambridge ESOL teacher trainer working for diverse organizations such as International House, the British Council, the Study Group (ILA Vietnam), the University of Leeds, and the City University of Hong Kong. His research interests include teacher training, materials design, academic writing, and critical discourse analysis. He has an MA in Applied Linguistics and his dissertation was on the use of popular science writing with undergraduate science students. In 2022 he won HKU's outstanding teaching award with other members of the CIC initiative.
Dr. Rona Li is the Lecturer (Teacher Education and Learning Leadership) at the Faculty of Education. Rona is currently teaching the CiC badged course BBED4223 Learning and Teaching English in Secondary School (Oracy), in which student teachers explore the needs of adolescent learners in local secondary school classroom context. To improve their oracy skills, teachers investigate into how teenage second language learners can make effective use of voice, body language, visual aids and other learning materials to enhance their literacies, oral literacy and visual literacy in particular. Rona's research interest includes second language acquisition, feedback and questioning techniques, and motivation to learn.
For information, please contact:
Ms. Canice Mok, TALIC
Phone: 3917 6069; Email: tsmok@hku.hk