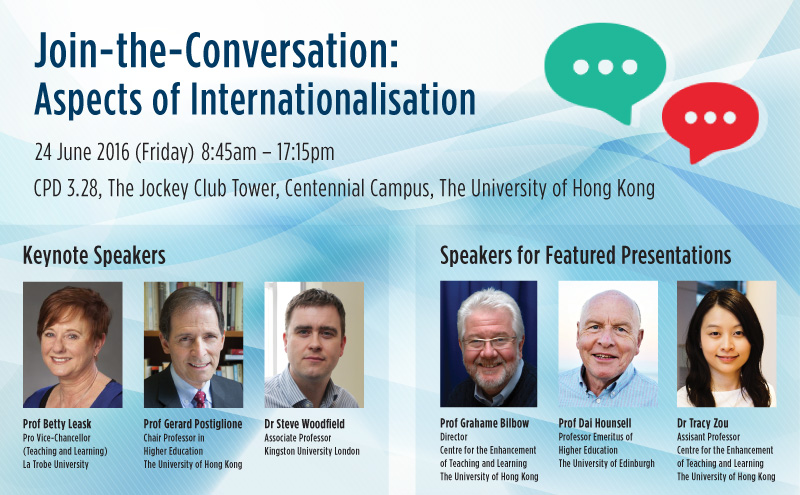 One-day Join-the-Conversation: Community of Practice - Aspects of Internationalisation
Date: 24 June 2016 (Friday)
Time : 8:45 a.m. – 5:15 p.m.
Venue : CPD 3.28, The Jockey Club Tower, Centennial Campus, The University of Hong Kong
Keynote Speakers:
Professor Betty Leask, Pro Vice-Chancellor (Teaching and Learning), La Trobe University
Professor Gerard Postiglione, Chair Professor in Higher Education, The University of Hong Kong
Dr. Steve Woodfield, Associate Professor, Kingston University London

Summary:
On 24 June 2016, CETL hosted a one-day Join-the-Conversation event on the topic: Aspects of Internationalisation. The event was opened by Professor Ian Holliday, Vice-President and Pro-Vice-Chancellor (Teaching and Learning). He briefed the University's commitment to internationalisation, within and beyond the classroom.
Professor Grahame Bilbow, Director of CETL, introduced the community of practice project which aimed to document and disseminate wise practices on two HKU strategic themes: internationalisation of teaching and learning, and assessment for learning. Keynote speakers were invited to share their expertise respectively on three core aspects of internationalisation, the curriculum, academic staff and students:
Professor Betty Leask, Pro-Vice-Chancellor (Teaching and Learning), La Trobe University
Professor Gerard Postiglione, Chair Professor in Higher Education, the University of Hong Kong
Dr. Steve Woodfield, Associate Professor, Kingston University London
Professor Betty Leask presented an institutional approach to internationalisation of the curriculum (IoC) to enhance the quality of education. It was recommended that the formal, informal (co-curricula) and the hidden curriculum be integrated with learning outcomes that focused on developing students' international and intercultural capabilities. Prof. Leask shared her experience of internationalising the curriculum with examples, and introduced a process model and a conceptual framework. IoC started with academics in disciplinary teams seeing emerging knowledge paradigms important to the university. They actively engage in planning, acting, evaluating and then reflectively make changes. Finally Prof. Leask summarised the speech with a seven-to-do list and elaborated on the aspects related to effective distributed leadership.
Professor Gerard Postiglione put forward that internationalisation could be perceived as an integration process that would bring intercultural, international and global dimensions to higher learning. He debunked some commonly held myths about internationalisation, pointing out that internationalisation did not simply mean teaching abroad or adding more international students. Referring to a number of examples of Sino-foreign faculty cooperation, Prof. Postiglione outlined many opportunities for higher education institutions to enhance their international collaborations. Furthermore, the cooperation between local and international academic staff could take many forms and lead to more internationally transmittable pedagogical approaches. At the end, Prof. Postiglione shared some interesting findings about a study on the internationalisation of academy and suggested that more catalysts would be needed in future.
Dr. Steve Woodfield shared his research findings on students' perceptions of integration and short term mobility. For integration on campus, UK students seemed generally positive toward international students while non-local students found integration with local students limited and challenging. A comprehensive institutional approach to integrate students was suggested. Strategies included mentoring or buddy schemes, induction programme, accommodation policies, and sports or social activities. Dr. Woodfield also introduced a research study on the relationship between short-term mobility and graduate employability. Short-term mobility was found helpful in developing personal, interpersonal and employable skills. These findings carried interesting implications for practices to facilitate better student learning.
Professor Grahame Bilbow, Director of CETL, Professor Dai Hounsell, Professor Emeritus of Higher Education, the University of Edinburgh, and Dr. Tracy Zou, Assistant Professor of CETL, presented the community of practice project undertaken at HKU. They introduced the process of identifying effective practices, compiling materials, engaging faculty members, and sustaining the community development. Two examples were used to illustrate how the process could bring changes to classroom practices and enhance interdisciplinary collaboration. A video consisting of clips of HKU students talking about their international experiences was also showed.
One special activity of this event was the student experience sharing during lunch time. Five students with substantial international learning experiences were invited to share their experiences and feelings with the audience. The casual discussion touched upon what these students learned from the experiences and how they adapted to a new cultural context when going abroad.
The last session of the event was a panel discussion led by Prof. Hounsell. The questions from the audience focused on three areas: student mobility and their learning; equity issues associated with student mobility, and academic staff mobility. It was opined that short-term mobility could be very beneficial when students were meaningfully and intellectually engaged in some projects directly connected to their studies. The nature of student learning experiences was seen as more crucial than the duration. Regarding concerns about students who could not afford going abroad, one possible solution was to promote virtual mobility and seek collaborative opportunities through digital platforms. A number of examples of successful virtual mobility were shared by panel members and the audience. About academic staff mobility, it was discussed that the diversity of academic staff could be increased not only by having staff members of different nationalities, but also through recruiting academics who had study experiences elsewhere.
Abstract:
This year, the University of Hong Kong was ranked the third most international university in the world. Indeed, as part of the University's vision for this triennium, we proclaim ourselves Asia's Global University.
This event acts as a showcase of what we know and value about the internationalisation of teaching and learning at the University of Hong Kong, and what we can learn about trends in internationalisation globally. The programme focuses on three key aspects of internationalisation in relation to students, academic staff and the curriculum, and explores how, collectively, they help to shape an international university. As is only fitting for an event focused on internationalisation, we have invited renowned scholars from around the world to share their insights and experiences with us.
This event is taking place under the aegis of CETL's Community of Practice Project, which has resulted in collaboration with staff from across the campus with the intention of fostering a community of practice in teaching and learning – collaboration which has already resulted in a creation of a large bank of teaching and learning resources based on case studies at the University of Hong Kong and internationally.
Programme:
Time
Section
Speaker / Panellist
08:45 – 09:10
Registration and Refreshments
09:10 – 09:15
Opening Remarks
Prof. Ian Holliday
09:15 – 09:30
Overview of the Event
Prof. Grahame Bilbow
09:30 – 11:00
Internationalisation of Teaching and Learning (1):
the Curriculum
Prof. Betty Leask
11:00 – 11:30
Tea Break
11:30 – 13:00
Establishing and Fostering a Community of Practice on Teaching and Learning: the HKU Community of Practice Project
Prof. Grahame Bilbow,
Prof. Dai Hounsell and
Dr. Tracy Zou
13:00 – 14:00
Lunch
14:00 – 15:00
Internationalisation of Teaching and Learning (2):
Academic Staff
Prof. Gerard Postiglione
15:00 – 16:00
Internationalisation of Teaching and Learning (3):
Students
Dr. Steve Woodfield
16:00 – 16:15
Tea Break
16:15 – 17:00
Panel Discussion – Internationalisation of Teaching and Learning: Ways Forward?
Discussant:
Prof. Dai Hounsell
17:00 – 17:15
Closing
Dr. Tracy Zou
For information, please contact:
Ms. Noranda Zhang , CETL
Phone: 3917 4729; Email: noranda@hku.hk​