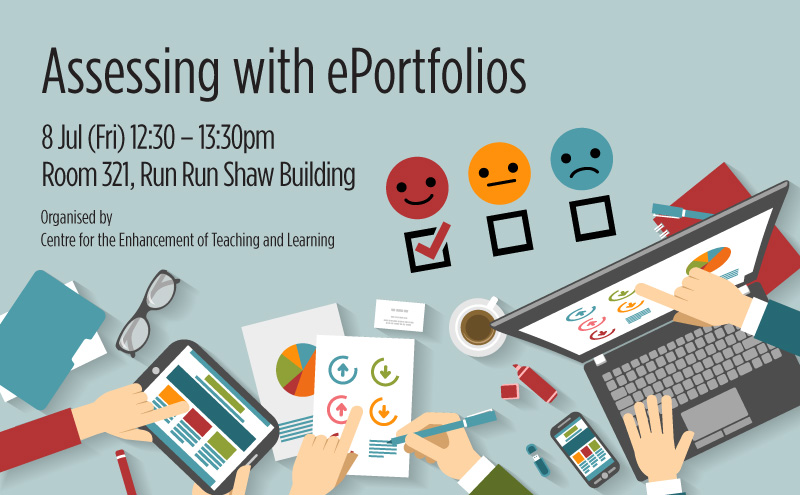 Organised by Centre for the Enhancement of Teaching and Learning (CETL)
Details of the workshop:
Date : July 8 (Friday), 2016
Time : 12:30 p.m. – 13:30 p.m.
Venue : Room 321, 3/F, Run Run Shaw Building (Main Campus), HKU
Speakers:
· Professor Gavin T. L. Brown, Director, Quantitative Data Analysis and Research Unit, Faculty of Education and Social Work, University of Auckland;
· Dr. Tanja Sobko, Assistant Professor, School of Biological Sciences, Faculty of Science, The University of Hong Kong.
Facilitator:
· Dr. Susan Bridges, Associate Professor, CETL, The University of Hong Kong
Sandwiches will be served with coffee and tea.

Abstracts
Focusing on what you value: A considered approach to assessing ePortfolios
ePortfolio creation, using any of a number of digital tools, is an opportunity for students to assemble work that shows not only high quality products and performances, but also to show development over time, focus on speciality, and demonstration of breadth. These highly valued characteristics of engaged learning make adoption of eportfolio as a basis for assessment very attractive. In addition, policy pressure encourages academia to keep up with innovations in educational technology related to learning and assessment. Demonstrating entry-level competence in a number of professions (e.g., teaching) is often achieved by assembly of an ePortfolio.
However, enthusiasm for ePortfolios often overlooks the challenges facing the assessment of the completed ePortfolio, especially around both the feasibility and validity of rankings, scores, judgements, and/or feedback. A number of approaches to assessment exist (e.g., checklist completion, quantification of components, rubric-based judgement, and professional intuition). This seminar will emphasise the importance of defining clearly the curricular goals targeted by the ePortfolio and overview the pros and cons of the various approaches. Using insights from psychometrics and recent research into the experience of students in ePortfolio usage, the seminar will help participants work towards defensible practices that lead to valid interpretations and decisions about student learning embodied in an ePortfolio.
ePortfolio in higher education in Hong Kong–Applicability of an ePortfolio, through online reflection/feedback of using wearable technology.
The interactions between human beings and the wearable technology can be linked to learning concepts/instructional methods like knowledge building, situated, self-regulated and active learning. They may also be linked to development of new literacies, such as eHealth. To understand this process in higher education in Hong Kong, a multiple case study including 30 students from an undergraduate course, BSc Exercise and Health has been conducted. Each student used a wearable device (activity tracker) over a period of five months, reflected weekly on emerging personal data, documents their thinking and action in the ePortfolio, and engaged in an online forum. The participants entered their experiences with the biometric data, lifestyle adaptations (e.g. more sleep), special situations (e.g. hike, HR changes during activity) and how these experiences led to specific searches and actions on the web and/or in their real social network. The ePortfolio allowed the students to critically reflect on their progress and for the researchers to intervene at any time on the issues related to the participants' postings. Evidence regarding change in eHealth at the beginning and end of the intervention were collected with a well-established questionnaire. By documenting the activity tracker in their own ePortfolio, the students continuously learned to search and to critically assess personal and available online information, organize it and present for peers/tutor. This in turn was expected to enhance their critical thinking, raise questions about health related topics, stimulate further inquiry – make the ePortfolio a tool for reflective and autonomous learning.
About the Speakers
| | |
| --- | --- |
| Professor Gavin T. L. Brown, PhD is the Director of the Quantitative Data Analysis and Research Unit in the Faculty of Education and Social Work at the University of Auckland, New Zealand. After 13 years a teacher, Prof Brown was a standardised test developer for 9 years working on diagnostic educational testing, including the computer-assisted asTTle system. His research focuses on testing, assessing, and measuring student achievement and analysing the human and social factors that help and hinder greater learning outcomes. Gavin is the lead editor of the Routledge Handbook of Human and Social Factors in Assessment (2016) in which insights gleaned from educational psychology and policy research are applied to large-scale testing programs and classroom assessment. Methodologically, Prof Brown has extensive experience with classical test and item response theory, exploratory and confirmatory factor analysis, and multivariate statistical analysis | |
| Dr. Tanja Sobko has multidisciplinary expertise in nutrition, healthy lifestyle interventions (PhD, 2006, Karolinska Institutet, Sweden) and recently Physical Activity and Sports Nutrition (HKU). She contributed early-nutrition work for WHO, Programme for Nutrition, Physical Activity and Obesity. Her recent research focuses on lifestyle modifications for families with pre-schoolers for better health. Dr Sobko is a PI for the projects "Targeting Early Obesity" (Macau), and "Play and Grow" (Hong Kong) – both aim, through exposing the families to nature, to influence daily habits and routines early in life. She teaches courses "Physical Activity and Health", "Sports Nutrition" and has been engaged in Teaching and Learning Development, focusing on ePortfolio and its applicability in the context of undergraduate education at HKU. When she doesn't research, she actively practices Aikido and hikes around HK and other exciting countries. | |
For information, please contact:
Ms. Noranda Zhang , CETL
Phone: 3917 4729; Email: noranda@hku.hk​