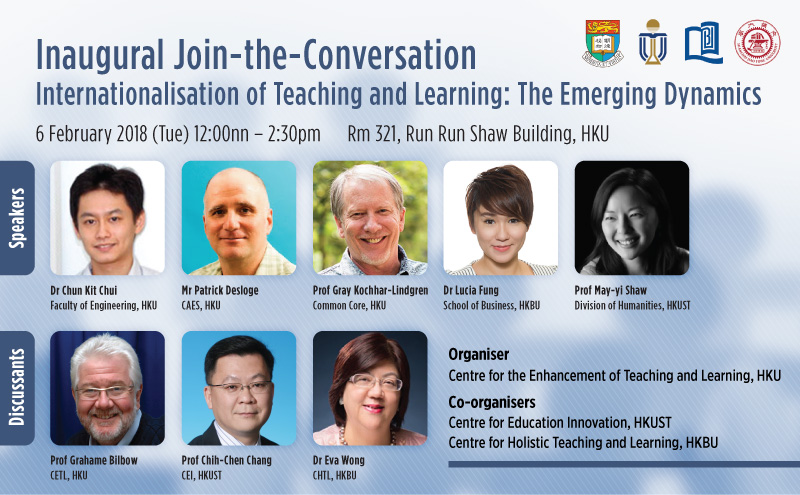 Details of the Join-the-Conversation:
Date : 6 Feb 2018 (Tuesday)
Time : 12:00nn - 2:30pm
Venue : Room 321, 3/F, Run Run Shaw Building (Main Campus), HKU
Speaker : Dr. Chun Kit Chui (HKU), Mr. Patrick Desloge (HKU), Prof. Gray Kochhar-Lindgren (HKU), Prof. May-yi Shaw (HKUST), Dr. Lucia Fung (HKBU)
Discussant : Prof. Grahame Bilbow (HKU), Prof. Chih-Chen Chang (HKUST), Dr. Eva Wong (HKBU)
Facilitator : Dr. Tracy Zou (HKU), Dr. Beatrice Chu (HKUST), Dr. Lisa Law (HKBU)
Organiser : Centre for the Enhancement of Teaching and Learning, HKU
Co-organisers : Center for Education Innovation, HKUST


Co-organisers :

Centre for Holistic Teaching and Learning, HKBU
Light refreshments will be provided.

Event Detail
Event Summary
Event Gallery
Abstract
Internationalisation of teaching and learning is a timely and significant issue for higher education in Hong Kong. This cross-disciplinary and cross-institutional project funded by the UGC has brought together professionals and enthusiasts, like us, to explore good approaches and practices of internationalisation of teaching and learning through CoP – ITL . This inaugural Join-the-Conversation aims to honour a number of emerging practices and development in three universities in Hong Kong and to bring participants into fruitful conversation with one another.
We are honoured to have speakers from HKU, HKUST and HKBU to share their practices as well as directors of teaching and learning centres in the three respective universities to give us valuable insights into the facilitation of internationalisation. Some findings obtained from the groundwork underpinning our project development will also be presented. Towards the end of the event, there will be a sneak peek at the funding opportunities for our CoP – ITL's members who want to explore and put innovative approaches to internationalisation of teaching and learning into real practice.
To enrich our discussion, we invite you to complete a survey that helps reflect on your practices in relation to internationalisation of teaching and learning. Selected results will be shared and discussed with audiences. All data will be made anonymously. Please kindly complete the survey on or before 1 February 2018 so that we can include your response for discussion at the event. Come along and be part of this community.
Survey link: https://www.surveymonkey.com/r/CoP_Internationalisation
About the Speakers
Dr. Chun Kit Chui is Director of the Engineering Innovation Wing and Lecturer in the Department of Computer Science at HKU. He is interested in database and data mining research as well as pedagogical research in computing education. He was selected for the University Outstanding Teaching Award (Individual Award) of the University of Hong Kong in 2015-16, and the Faculty Outstanding Teaching Award (Individual Award) of the Faculty of Engineering in 2012-13. He has also received the Teaching Excellence Award in the Department of Computer Science in 2011-12, 2012-13, 2013-14, 2014-15 and 2015-16.
Mr. Patrick Desloge is Senior Lecturer in the Centre for Applied English Studies at HKU where he has been working in the area of education technology for nearly two decades. In recent years he has taken on two large projects: As the Director of the Nurturing Global Leaders (NGL) programme, a programme funded by grant from the Hong Kong Jockey Club, he oversees more than a hundred HKU and local youth who engage with marginalized youth in Thailand, Myanmar and Cambodia (and Mainland China in 2018) by working as volunteer interns teaching English as a Second Language. This project intersects with his second area of interest, digital literacies, where he is investigating the potential of digital media as a mechanism to assess experiential learning.
Prof. Gray Kochhar-Lindgren is Professor and Director of the Common Core at HKU. He holds a PhD in Interdisciplinary Studies from Emory University; has taught in the United States, Switzerland, and Germany; and is currently writing on both the global university and on the relationship between philosophy and the city.
Prof. May-yi Shaw is Assistant Professor of Humanities Education at HKUST. She received her BA degree in Political Science and East Asian Studies at the University of Pennsylvania, and her PhD degree in East Asian Languages and Civilizations at Harvard University. At HKUST, Prof. Shaw has served as the Associate Director for the BSc Global China Studies Programme and MA in Humanities and China Studies Programme, and the Director for the SHSS PG Student Services Programme. She is currently the Director for the MA in Chinese Culture Programme and the Faculty Leader for the HeadStart@HKUST Programme, an early career enhancement programme for first- and second-year students.
Dr. Lucia Fung is Lecturer and the BBA (Hons) Associate Programme Director at HKBU. She completed her Ph.D. in Psychology at the University of Western Australia. Her current research interests lie in the area of behavioral finance and she has been actively contributing to scholarly work in pedagogical development. She is currently a co-leader of a UGC Teaching and Learning project in promoting reflective learning and knowledge transfer between internships and classroom learning.
About the Discussants
Prof. Grahame Bilbow is Director of the Centre for the Enhancement of Teaching and Learning at HKU.
Prof. Chih-Chen Chang is Professor and Director of the Centre for Education Innovation at HKUST.
Dr. Eva Wong is Director of the Centre for Holistic Teaching and Learning at HKBU.
About the Facilitators
Dr. Tracy Zou is Assistant Professor in the Centre for the Enhancement of Teaching and Learning at HKU.
Dr. Beatrice Chu is Head of Professional Development in the Centre for Education Innovation at HKUST.
Dr. Lisa Law is Senior Teaching and Learning Officer in the Centre for Holistic Teaching and Learning at HKBU.

The inaugural Join-the-Conversation event celebrated the close collaboration among HKU, HKUST, HKBU and SJTU and provided colleagues with a platform to exchange thoughts and practices in relation to internationalisation of teaching and learning. The event was held on 6 February 2018 (Tuesday) at HKU with five speakers, three discussants, three facilitators and about fifty participants across different institutions and beyond.
The event started with Prof. Grahame Bilbow's warm welcome to the first Join-the-Conversation event led by the Community of Practice – Internationalisation of Teaching and Learning (CoP – ITL hereafter) Project. Prof. Bilbow went on to introduce the development of internationalisation of teaching and learning at HKU, followed by Prof. Chih Chen Chang and Dr. Eva Wong's sharing of the relevant development at HKUST and HKBU, respectively. Dr. Tracy Zou, CoP – ITL Project Leader, moved on to talk about the aims, approaches, focal areas of the project and some preliminary results from the online survey.
The five speakers' presentations echoed well with the width of CoP – ITL and exhibited the dynamics of internationalisation-related practices. The topics of discussion included:
Dr. Chun Kit Chui: Wastewater treatment in Myanmar
Prof. May-yi Shaw: Leading classroom towards diversity
Mr. Patrick Desloge: Nurturing global leaders through students' teaching experience in Myanmar
Dr. Lucia Fung: Leveraging diversity to improve classroom learning?
Prof. Gray Kochhar-Lindgren: On becoming-other internationalisation at "home"
Dr. Chui presented his experiential learning project for Engineering and Science Students at HKU and Dagon University (Myanmar). The project involved two stages: (1) pre-trip preparation and (2) on-site operation. Students of both sides had to conduct knowledge exchange workshops for their peers with mixed disciplinary, cultural and linguistic backgrounds. Such experiential learning was salient in the way that engineering students had a taste of the real engineering design cycle which has been highly appreciated by the industry.
Prof. Shaw explicated her experience in how to lead a classroom towards diversity along with course examples. Classroom diversity could start locally, then expand globally and finally create a personal touch by means of turning knowledge into relevance as well as asking application questions. It was worth highlighting that Prof. Shaw set specific rules of group formation in her teaching. Each group included students of different backgrounds, gender, disciplines, and year. Such rule of group formation was consistent throughout every class, every discussion and every assignment.
Mr. Patrick Desloge shared with us the Nurturing Global Leaders programmes that he is leading. HKU students went across regions to engage with marginalised youth in Thailand, Myanmar, Cambodia and Mainland China. It is noted that throughout the eight-week teaching in class, students not only helped the locals talk in English, but also bonded with each other. One student's remark was quoted: "… feeling so familiar and safe in a foreign place makes me feel weird. It's like part of me was left behind six months ago and now I'm going back to claim it."
Dr. Lucia Fung talked us through some of her approaches to leveraging diversity in classroom learning. For group projects, local students were mixed up with internationals. Students were invited to share cross-cultural knowledge for their assessments and discussion, to challenge existing theories and develop new research topics as well as to go on exchanges. To enhance students' readiness for classroom diversity, it was accentuated to have a systematic manner among teachers and integrate classroom learning and co-curricular activities. It is hoped that internationalisation will be made a second nature in learning and at university.
Prof. Gray Kochhar-Lindgren elaborated "Why internationalise?" and "What is the 'at home'?" and presented how Common Core@HKU supported the emerging dynamics of student learning. At the programmatic level, the Core divided knowledge into four Areas of Inquiry (AoIs). They are Scientific and Technological Literacy, Global Issues, Humanities and Arts as well as China. There were two other recent programmatic initiatives such as Transdisciplinary Research Exchange and GLADE (Global Liberal Arts Design Experiments) which allowed students to explore culturally, geographically and interdisciplinary.
Some issues pertinent to internationalisation of teaching and learning were raised and discussed with speakers, discussants and facilitators, for example:
1. What could we do to change the majority of students' mindset to a more internationalised one?
Prof. Kochhar-Lindgren opined that the university has required undergraduates to enroll in common core courses. This guaranteed exposure could be seen as the starting point. Dr. Wong suggested that it might be good to consider internationalised exposure as a plus experience in order not to turn students off quickly.
2. What were the differences between service learning, co-curricular learning and experiential learning?
Prof. Bilbow commented that experiential learning was an overarching term and included service learning. There were many other forms of experiential learning (anything about learning by doing), such as practicums and internships. Service learning was sometimes in the curricular course. Sometimes, it was not. Service learning could be a type of co-curricular learning as well. Further to Prof. Bilbow's comments, Dr. Chui highlighted that from the perspective of the engineering industry, people in the field valued the experience that students had instead of the service students have provided. As such, it would be important to talk to people in the field and saw what they expected from students.
This inaugural Join-the-Conversation event ended with remarks by Dr. Tracy Zou that CoP – ITL adviser Prof. Betty Leask is visiting HKU on 23 March 2018 and that those who are interested in piloting their internatinalisation of teaching and learning projects should join us and learn more about the funding opportunities and seek consultation from our adviser.
For information, please contact:
Ms. Noranda Zhang , CETL
Phone: 3917 4729; Email: noranda@hku.hk​