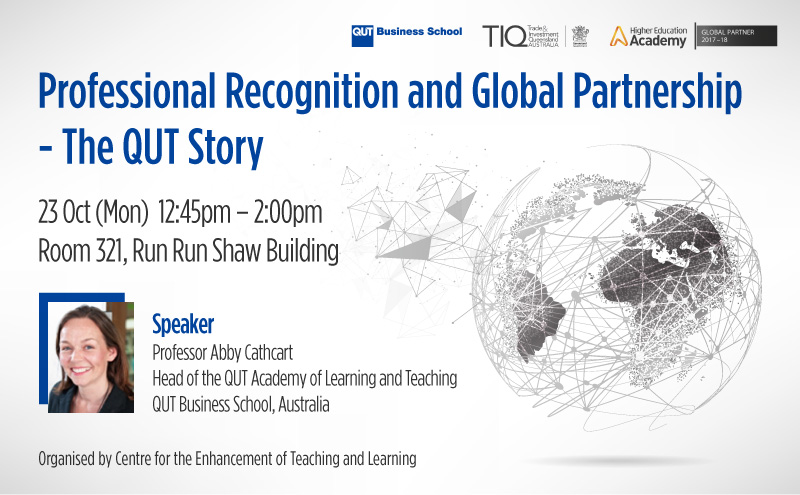 Organised by Centre for the Enhancement of Teaching and Learning (CETL)
Details of the workshop:
Date : 23 October, 2017 (Monday)
Time : 12:45 pm – 2:00 pm
Venue : Room 321, 3/F, Run Run Shaw Building (Main Campus)
Facilitator : Dr. Cecilia Chan, Head of Professional Development, Associate Professor, HKU
Speaker : Professor Abby Cathcart, Head of the QUT Academy of Learning and Teaching, QUT Business School, Australia

Abstracts
The UK Higher Education Academy (HEA) is an independent, charitable organisation, which promotes teaching excellence in higher education. HEA manages a fellowship scheme underpinned by the Professional Standards Framework (PSF) to benchmark success within higher education teaching. There are more than 90,000 HEA fellows worldwide, including 1500 in Australia and New Zealand.
QUT is a recognised leader in teaching quality, with more Australian Awards for University Teaching than any other University in the sector over the past ten years. QUT became a Global Strategic Partner of the HEA in 2016 and since then more than 400 staff members have successfully been recognised as HEA Fellows. This short seminar presentation will share QUT's strategy for building a community of fellows and reflect on the impact of professional recognition on individuals, schools and the wider community. It will also outline a new project, supported by Trade & Investment Queensland and the HEA, which provides opportunities for educators in Hong King and China to participate in knowledge exchange and research collaborations framed by the PSF, with award-winning Senior Fellows from Queensland Universities.
---
About the Speaker
| | |
| --- | --- |
| Dr Abby Cathcart is a Professor of Work and Organisation in QUT Business School and the Head of the QUT Academy of Learning and Teaching. Professor Cathcart led the accreditation of a range of pathways to fellowship, benchmarked against the UK HEA's Professional Standards Framework. With the support of her team, more than 400 QUT staff members have achieved professional recognition over the last two years. In 2014 Abby received QUT's inaugural David Gardiner Teacher of the Year Medal. | |
Abby's research encompasses two distinct areas. The first is on employee involvement and voice and includes articles on the John Lewis Partnership Model, flexible work arrangements, and democratic decision-making. Her second research focus area stems from the scholarship of teaching and incorporates research on assessment, feedback, student engagement and early career academic voice.
Abby is a Principal Fellow of the UK Higher Education Academy and an international accreditor for the UK Higher Education Academy. This role includes mentoring staff members and working with overseas institutions to design professional development programs and benchmark them against the Professional Standards Framework. Abby is the recipient of three national Australian Awards for University Teaching (Citation, Teaching Excellence Award, and Program Award). She co-designed and directs the Teaching Advantage Global Program for doctoral candidates and early career academics at QUT and beyond. This won the International Education Association of Australia's Best Practice Award in 2015. She is a visiting fellow in the Centre for Higher Education Learning and Teaching at Australian National University.
Research Projects
Abby's projects include:
Global Partnerships for Academic Teaching Excellence, leading a consortium of all Queensland Universities, funded by Trade and Investment Queensland, International Education and Training Partnerships Fund and the UK Higher Education Academy
International perspectives on the impact of professional recognition, with Smart (Edinburgh Napier), Floyd & Davies (Ulster) Carkett (Bath), Dransfield (York St John) & Davies (University College London)
Enhancing management students' professional presentation skills through self and peer assessment: Calibrating judgment using the 3D presentation framework, with Grant-Smith & Williams, QUT, funded by the Australia & New Zealand Academy of Management. http://doctoralteaching.org/professional-presentations-toolkit/
Improving assessment and marking in Higher Education, with Neale (QUT), funded by QUT
Selected Recent Publications
Greer, D., Cathcart, A., and Neale, L. (2016). Helping doctoral students teach: Transitioning to early career academia through cognitive apprenticeship. Higher Education Research and Development. 35(4), 712–726.
Cathcart, A., Greer, D., and Neale, L. (2014). Learner-Focused Evaluation Cycles: Facilitating learning using feedforward, concurrent and feedback evaluation. Assessment & Evaluation in Higher Education. 39 (7), 790-802
For information, please contact:
Ms. Noranda Zhang , CETL
Phone: 3917 4729; Email: noranda@hku.hk​