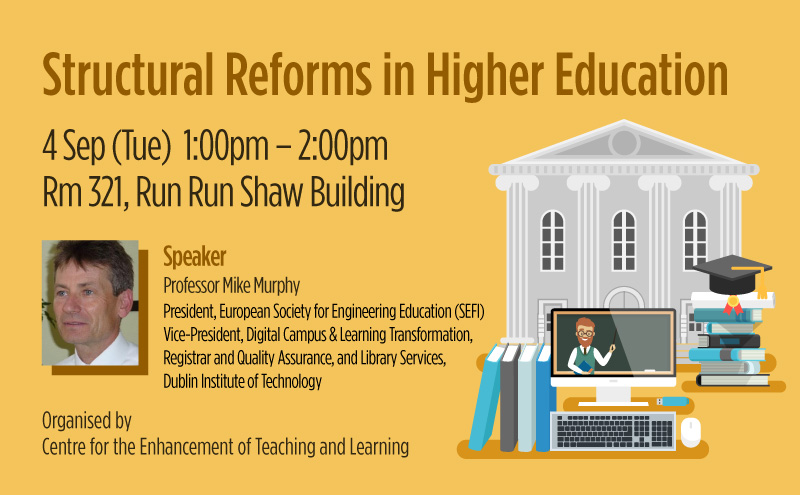 Organised by Centre for the Enhancement of Teaching and Learning (CETL)
Details of the workshop:
Date : 4 Sep 2018 (Tuesday)
Time : 1:00pm - 2:00pm
Venue : Room 321, 3/F, Run Run Shaw Building (Main Campus), HKU
Speaker : Professor Mike Murphy, President, European Society for Engineering Education (SEFI) and Vice-President, Digital Campus & Learning Transformation, Registrar and Quality Assurance, and Library Services, Dublin Institute of Technology
Facilitator : Dr. Cecilia Chan, Head of Professional Development, Associate Professor, HKU

Abstracts
This talk will explore how governments seek to direct economic development through structural reforms in Higher Education. Ireland will be used as a case study and the development of the new 'technological university' sector will be discussed in some detail in terms of its goals and legislative requirements. Comparisons with traditional universities and institutes of technology will be explored.
About the Speaker
Reporting directly to the President of Dublin Institute of Technology, Mike Murphy leads the directorate of Digital Campus & Learning Transformation. The goal of this new directorate is to lead the learning transformation agenda across DIT, including development of policies, plans and staff development and support initiatives to accomplish this transformation; and to build a vibrant Digital Campus that will differentiate DIT within Irish higher education. This transformation agenda includes the DIT partners in the strategic alliance called TU4Dublin. The role includes providing management and leadership for the Office of the Registrar; Academic Quality Assurance; Library Services; ICT Services; Learning Teaching & Technology Centre; Staff Development; and Digital Campus.
Immediately prior to this, Mike was the Programme Coordinator for TU4Dublin, which is a major higher education initiative in Ireland. The goal of TU4Dublin is to create the largest higher education institution in Ireland via the planned merger of three separate Institutes of Technology. The newly merged institute will seek to be designated as Ireland's first technological university. In this role Mike formed and led a Programme Team which successfully completed three of the four required stages for TU designation. Prior to this he was the Director and Dean of the College of Engineering & Built Environment at DIT. DIT is one of Ireland's largest and most diverse higher education institutions and the College of Engineering & Built Environment is the largest such College in Ireland, comprising approximately 7,000 students and over 100 accredited programmes across the spectrum from apprenticeship to PhD. Mike is a proven leader with almost 30 years of experience, since gaining his doctorate. He brings a track record of achievement that includes a balance of public and private sector, academic and non-academic, domestic and international experience. As an academic he has led by example, and was conferred with the title of DIT Professor in February 2017. He is the President of SEFI (the European Society for Engineering Education), taking office in October 2017; he is a founding member and immediate past chair of the European Engineering Deans Council. He sits on the Board of Directors for three bodies: SEFI, HEAnet, and Educampus.
For information, please contact:
Ms. Noranda Zhang , CETL
Phone: 3917 4729; Email: noranda@hku.hk​