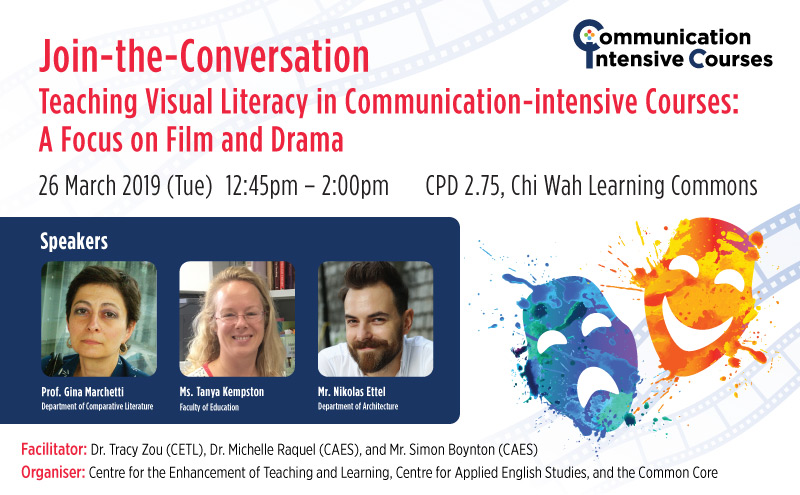 Organised by Centre for the Enhancement of Teaching and Learning (CETL)
Details of the workshop:
Date : 26 March 2019 (Tuesday)
Time : 12:45pm - 2:00pm
Venue : CPD 2.75, Chi Wah Learning Commons, Centennial Campus
Speaker : Prof. Gina Marchetti, Ms. Tanya Kempston, Mr. Nikolas Ettel
Facilitator : Dr. Tracy Zou (CETL), Dr. Michelle Raquel (CAES), and Mr. Simon Boynton (CAES)
Organiser : Centre for the Enhancement of Teaching and Learning, Centre for Applied English Studies, and the Common Core

Abstract
At HKU, we are committed to recognising and developing a number of Communication-intensive (CI) courses that explicitly develop students' communication knowledge, skills, and attributes. Through the process of working with interested colleagues across HKU, we have found that film and drama can be used as powerful learning tools to create opportunities for students across various disciplines to acquire communication literacies in interactive and analytical settings. To many students, film and drama are fun, motivating, and engaging. In this join-the-conversation event, we are pleased to welcome three course leaders to share with us how their courses develop students' communication literacies through film and drama. More information about the CI courses can be found here: https://cics.hku.hk/
About the speakers
Gina Marchetti teaches courses in film, gender and sexuality, critical theory and cultural studies at the University of Hong Kong. She is the author of Romance and the "Yellow Peril": Race, Sex and Discursive Strategies in Hollywood Fiction (Berkeley: University of California, 1993), From Tian'anmen to Times Square: Transnational China and the Chinese Diaspora on Global Screens (Philadelphia: Temple University Press, 2006), and The Chinese Diaspora on American Screens: Race, Sex, and Cinema (Philadelphia: Temple University Press, 2012), Andrew Lau and Alan Mak's INFERNAL AFFAIRS—The Trilogy (Hong Kong: Hong Kong University Press, 2007), and Citing China: Politics, Postmodernism, and World Cinema (Hawai'i, 2018), among other publications. Her most recent book is The Palgrave Handbook of Asian Cinema, co-edited with Aaron Han Joon Magnan-Park and See Kam Tan (Palgrave-Macmillan, 2018). Visit the website https://hkwomenfilmmakers.wordpress.com/ for more information about her work on Hong Kong women filmmakers since 1997. To register for her Massive Open Online Course (MOOC) on Hong Kong cinema, go to https://www.edx.org/course/hong-kong-cinema-through-global-lens-hkux-hku06-1x .
Tanya Kempston is a lecturer in Faculty of Education at the University of Hong Kong, where she teaches in the areas of second language learning in secondary settings, using drama and literary texts in a variety of educational contexts. Before coming to HKU, she was a Curriculum Development Officer in the Hong Kong Education and Manpower NET Section. She is a keen advocate of the use of drama as a medium for enhancing students' creative, collaborative and communicative skills and abilities, having experienced at first hand the enjoyment and satisfaction students gain from making and appreciating drama on her Common Core course. As part of this course, students work in groups to create their own performance pieces for a real audience of secondary school students, making effective communication essential in the devising and performance stages! Tanya is one of the winners of the HKU Outstanding Teaching Award 2018.
Nikolas Ettel is a lecturer in the Department of Architecture at the University of Hong Kong. Born in Vienna, he holds a Bachelor of Architecture from the Academy of Fine Arts Vienna. In London he received The Bartlett Master's Scholarship to complete his Master of Arts in Architectural History at The Bartlett School of Architecture, UCL. Nikolas has taught design and architectural theory courses in Hong Kong, Shanghai and Tokyo, and was a Visiting Lecturer at University of Saint Joseph Macau. His elective course Architecture & Memory takes a closer look at the art of motion pictures, in which students explore the productive interplay between cinematic productions and architectural discourses. The aim is to focus attention on works of quality in order to create new grounds for architectural discussions while enhancing our understanding of existing ones.
For information, please contact:
Mr. Thomas Lau , CETL
Phone: 3917 4807; Email: kanclau@hku.hk​