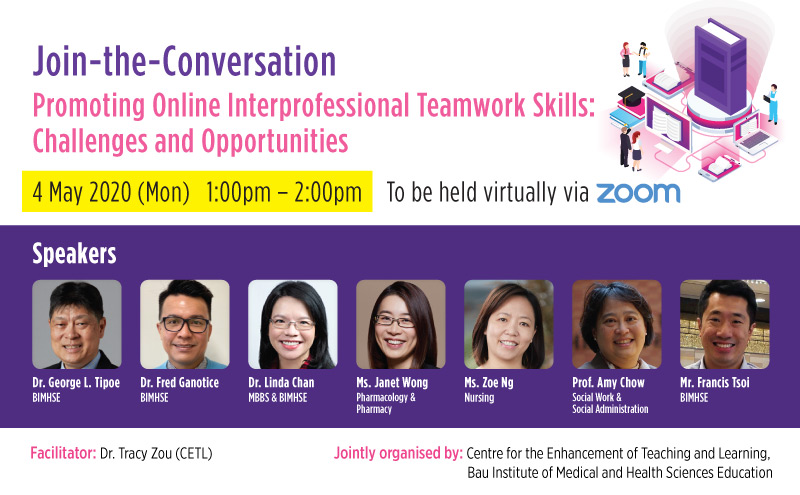 Details of the workshop:
Date :

4 May 2020 (Mon)


Time : 1 p.m. – 2 p.m.
Venue :

To be held virtually via Zoom


Speaker: Dr. George Tipoe (BIMHSE), Dr. Fraide Ganotice (BIMHSE), Dr. Linda Chan (MBBS and BIMHSE), Ms. Janet Wong (Pharmacology and Pharmacy), Ms. Zoe Ng (Nursing), Prof. Amy Chow (Social Work), Mr. Francis Tsoi (BIMHSE)
Facilitator: Dr. Tracy Zou (CETL)

A link will be provided to registered participants one day before the event.
Abstract
The interprofessional education (IPE), a large-scale cross-disciplinary and cross-faculty programme promoting transformative shift to team-based collaboration in patient care, is conventionally implemented as face-to-face instruction. However, in view of the health-related risks of holding large classes during pandemic, there is a need to redesign the programme to online (synchronous and asynchronous) model. Several questions came to our mind: Is it possible to promote desirable teamwork skills (e.g. teamwork and collaboration, respectful communication, and decision making) online? What are the enablers and barriers in implementing online IPE? To what extent do students accept this new model? What is the evidence of student learning? In this conversation, the speakers will walk us through the innovative steps they have taken to develop the online IPE model to achieve the goals of IPE.
About the speakers
Dr. George L. Tipoe is an Associate Professor and Assistant Dean (Enrichment Year) at Li Ka Shing Faculty of Medicine. He is the current Director of Bau Institute of Medical and Health Sciences Education (BIMHSE), Li Ka Shing Faculty of Medicine.
Dr. Fraide A. Ganotice is a senior lecturer at BIMHSE, Li Ka Shing Faculty of Medicine. He is the programme coordinator of Interprofessional Education and he is currently implementing a TDG project entitled "Finetuning the application exercise and facilitation strategies of interprofessional education" for which he is the principal investigator.
Dr. Linda Chan is a Clinical Assistant Professor, jointly appointed under the Department of Family Medicine and Primary Care, and BIMHSE, Li Ka Shing Faculty of Medicine. She currently serves as the BIMHSE co-coordinator of the MEd Health Professions Education Specialism. She had the privilege of being one of the content experts/facilitators for the online Interprofessional Education Instructional Units on Depression and Cancer in 2020.
Ms. Janet KT Wong is a lecturer of the Department of Pharmacology and Pharmacy. Janet is currently serving as the Programme Coordinator of the Master of Clinical Pharmacy. She is currently working on a TDG-supported project to develop simulated adaptive case-based scenarios on e-learning platform to support clinical teaching.
Ms. Zoe Ng is a lecturer of the School of Nursing. Zoe is the Clinical Coordinator of the Bachelor of Nursing Programme and she is currently participating in TDG-supported projects entitled "Virtual Emergency Room: A serious online game for enhancing clinical competence and teamwork in medical and nursing undergraduates" and "Blood transfusion education using virtual reality simulation for nursing undergraduate students".
Prof. Amy Chow is a professor of the Department of Social Work and Social Administration. She is the Programme Director of Bachelor of Social Work and the Director of Hong Kong Jockey Club End-of-Life Community Care Project.
Mr. Francis Tsoi is a senior technical officer at BIMHSE, Li Ka Shing Faculty of Medicine. He is interested in eLearning and providing support to the technical part of the Interprofessional Education.
For information, please contact:
Mr. Thomas Lau , CETL
Phone: 3917 4807; Email: kanclau@hku.hk​