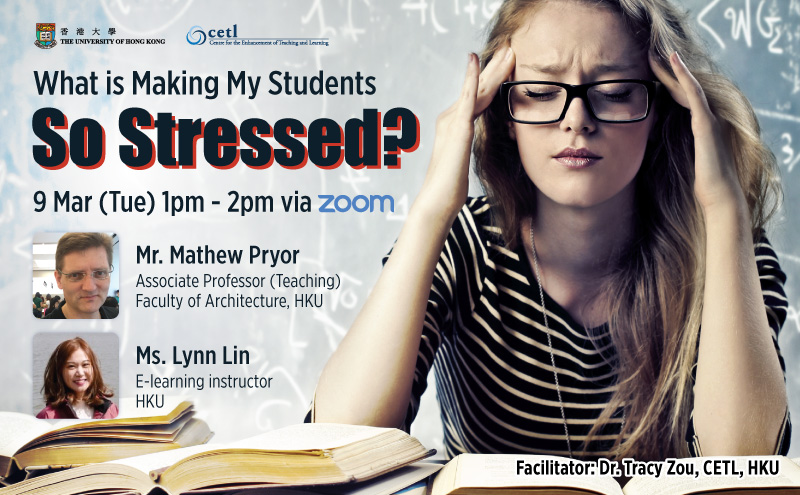 Organised by Centre for the Enhancement of Teaching and Learning (CETL)
Details of the workshop:
Date : March 9, 2021 (Tuesday)
Time : 1:00 pm – 2:00 pm
Venue : Conducted via Zoom
Speaker : Mr. Mathew Pryor, Associate Professor (Teaching) in Faculty of Architecture and Ms. Lynn Lin, E-learning instructor, HKU
Facilitator : Dr. Tracy Zou, CETL, HKU

Abstract
For many years students have reported high levels of personal stress in their design studio courses, citing a wide range of causes and effects. In this workshop session, Mathew will introduce a year-long study involving extensive student interviews and questionnaires that looked to define the (pre-pandemic) nature and factors associated with student stress, its effects on student performance and well-being, and how all that changed when the world went online. Although focused on design courses, insights from this study may be relevant to many teaching practices and pedagogical approaches in higher education.
About the Speakers
Mathew PRYOR
Mathew is an Associate Professor (Teaching) in Faculty of Architecture, and a Senior Fellow of the Higher Education Academy (UK). He combines more than 20 years of experience as a practicing landscape architect with teaching and research in the Division of Landscape Architecture at HKU. Through his courses in design, sustainable development, and construction technologies, he has developed a pedagogical approach based around the socialization of online learning and transdisciplinary teaching. He was a recipient of a HKU Teaching Innovation (Team) Award (2020), Council of Educators in Landscape Architecture (USA) Excellence in Teaching Award (2019), UGC Teaching (Team) Award (2019), and HKU Teaching Excellence (Team) Award (2018). He has recently completed TDG Studies on 'Understanding the Role of Positive Emotion in Student Engagement' and 'Addressing student stress in design studio' which are the basis of this workshop.
Lynn H. LIN
Lynn is an E-learning instructor working at HKU. She achieved a Master degree in Information Technology in Education and an Honours Bachelor degree in Psychology. She has designed a 3D socialized learning environment – Digital Exhibition Space, and has published and presented her study on student online socialization at several conferences. Her research engages with issues of student socialization, emotion, engagement, motivation and learning outcomes within technology-supported collaborative learning environments.
For information, please contact:
Ms. Lavina Luk, CETL
Phone: 3917 5272; Email: ytluk89@hku.hk