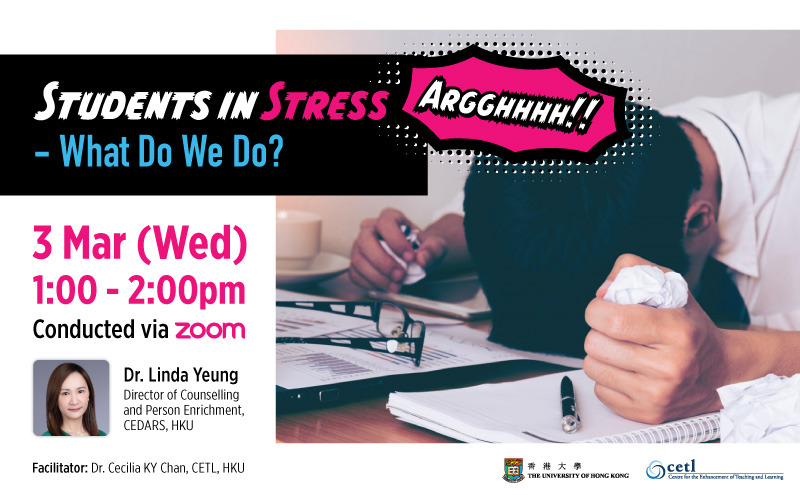 Organiser: Centre for the Enhancement of Teaching and Learning, The University of Hong Kong
Details of the workshop:
Date : 3 March 2021 (Wednesday)
Time : 1:00 pm – 2:00 pm (HKT)
Venue : Conducted via Zoom
Speaker : Dr. Linda Yeung, Director of Counselling and Person Enrichment, CEDARS, HKU
Facilitator : Dr. Cecilia KY Chan, CETL, HKU

Abstract
Have you ever come across students who are stressed?
What do you do?
How do you identify students who are stressed particularly during this period?
When should we contact the professionals?
In this seminar, Dr. Linda Yeung, the Director of Counselling and Person Enrichment (CoPE) at CEDARS, will discuss with us some of the above questions. So, come and learn, and see how we can support our students. At the same time, find ways to destress ourselves and learn more about how we can refer students with needs to appropriate services on campus.
About the Speaker
Dr. Linda Yeung has over 20 years of professional experiences in the clinical psychology field. As the Director of Counselling and Person Enrichment (CoPE) at CEDARS, she is currently leading a team of counselling and student advising experts to provide professional services for students with diverse personal needs at HKU. The scope of work under CEDARS-CoPE focuses on student mental health, psychological well-being, SEN support, personal enrichment and peer support. Dr. Yeung and her team offer training to both staff and students, so as to enhance mental health literacy and to promote the spirit of shared-care. She is a Master Instructor of the popular Mental Health First Aid Training. Apart from supervision and training, she actively engages in the development of counselling and psychological services for students at universities. She was elected twice the Chair of The Hong Kong Tertiary Institutions Psychological Counselling Working Group of Hong Kong Student Services Association.
For information, please contact:
Ms. Lavina Luk, CETL
Phone: 3917 5272; Email: ytluk89@hku.hk