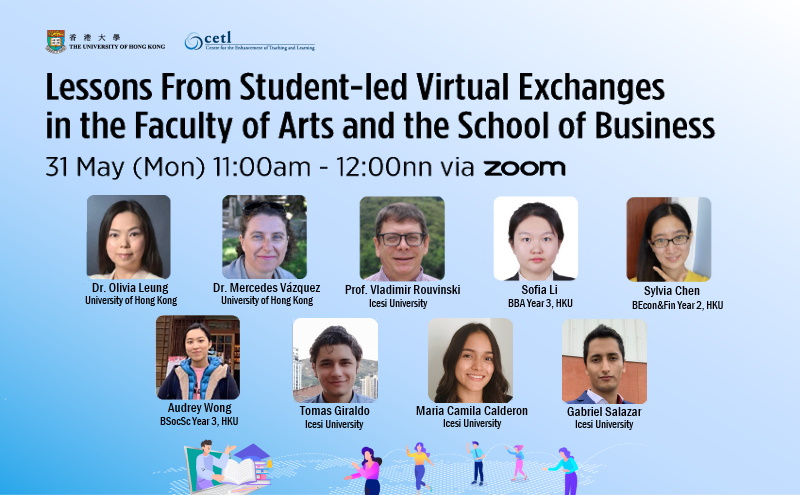 Organised by Centre for the Enhancement of Teaching and Learning (CETL)
Details of the Event:
Date : 31 May 2021 (Monday)
Time : 11:00 am – 12:00 nn
Venue : Conducted via Zoom
Speakers : Dr. Olivia Leung (HKU), Dr. Mercedes Vázquez (HKU), Prof. Vladimir Rouvinski (Icesi University), Sofia (LI Kexin) HKU BBA(Accounting and Finance) Year 3, Sylvia (CHEN Keqin) HKU BEcon&Fin Year 2, Audrey (WONG See Yui) HKU Bachelor of social sciences Year 3, Tomas Giraldo (Icesi University), Maria Camila Calderon (Icesi University), Gabriel Salazar (Icesi University)
Facilitator : Dr. Cecilia KY Chan, CETL, HKU

Abstract
The vision of HKU has been led by our 3I+1 statement, and one of the Is is Internationalization. In the past year and a half, traditional internationalization has been difficult if not impossible, all student exchanges have ceased running. Some light-bulb moments from our teachers was the result – "Internationalization at home". Among all, virtual exchange programme with overseas partners becomes one of the ways to connect our students to the rest of the world despite of the current global travel restrictions.
Let's find out from the teachers and students in the Faculty of Arts and the Business School on how a student-led virtual exchange programme was developed and evolved, and what they have learnt along the way.
About the Speakers
Dr. Olivia Leung is an associate professor of teaching in Accounting and Associate Dean (Teaching and Learning) of the HKU Business School. Beyond teaching, Olivia has experience in developing various enrichment programmes and activities to expand students' horizons outside the classroom both locally and internationally. She has been awarded the student-led Teaching Feedback Award in 2018 and the Faculty Outstanding Teaching awards in 2013, 2016, and 2019.
Dr. Mercedes Vázquez is a Lecturer and Honorary Assistant Professor in the School of Modern Languages at The University of Hong Kong. She is the author of The Question of Class in Contemporary Latin American Cinema (Lexington) and the Oxford Bibliography of Latin American Cinema, as well as other articles and book chapters on cinema and the pedagogy of language, literature and cinema in the Hong Kong context. She conducts research on the use of audiovisuals for teaching and learning language and culture and Asian-Latin American interconnections on the screen, and is an active curriculum innovator.
Prof. Vladimir Rouvinski is Director, Laboratory of Politics and International Relations (PoInt), and Professor, Department of Political Studies, at Icesi University in Cali, Colombia. He graduated from Irkutsk State University, in Russia, majoring in history and international relations, and he also holds MA and PhD in International Development and Cooperation from Hiroshima University in Japan. Before joining Icesi University in 2007, Vladimir worked with the Japan Society for the Promotion of Science (JSPS), education and research institutions in Russia, Japan, and Colombia, and he speaks Russian, English, and Spanish. Vladimir's area of expertise is Russian and Asian countries relations with Latin America.
For information, please contact:
Ms. Lavina Luk, CETL
Phone: 3917 5272; Email: ytluk89@hku.hk