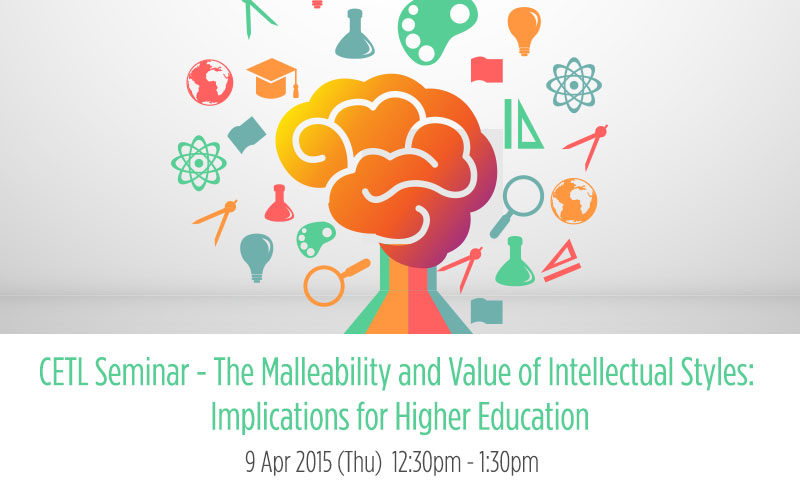 Organized by
Centre for the Enhancement of Teaching and Learning (CETL)
Speaker: Professor Li-fang Zhang, Head of Division of Learning, Development and Diversity, Faculty of Education, HKU
Date : 9th April, 2015 (Thursday)
Time : 12:30pm – 1:30pm
Venue : Room 321, Run Run Shaw Building

Abstract:
Intellectual styles are people's preferred ways of using their abilities. The principal objective of this talk is to demonstrate that in an increasingly globalizing era when student populations are more diverse than ever before, intellectual styles play an even more critical role in higher education. To achieve this objective, the talk showcases chief research evidence suggesting that students' and academics' styles, particularly styles that are creativity-generating and that require higher levels of cognitive complexity (known as Type I intellectual styles), matter significantly in teaching and learning as well as in student and faculty development. It presents empirical evidence revealing that styles can be modified through both socialization and deliberate training. Finally, implications of research findings are proposed respectively for students, academics, student development educators, and for university senior managers.
About the Speaker:
Li-fang Zhang is Professor of Psychology and Education in the Faculty of Education at The University of Hong Kong, where she served as Associate Dean (Research Higher Degrees) from 2007 to 2010 and is currently Head of the Division of Learning, Development, and Diversity. Professor Zhang is the author of over 100 peer-reviewed journal articles and encyclopedic entries as well as dozens of academic book chapters and books.  Her most recent book is entitled "The Malleability of Intellectual Styles" (Zhang, 2013; Cambridge University Press).  The title of her forthcoming monograph is "The Value of Intellectual Styles" (Cambridge University Press).
Apart from publishing on intellectual styles, she has also published works in such diverse research areas as creativity, giftedness, personality, student development, teacher education, higher education, multicultural education, and the academic profession.  She is Associate Editor of Journal of Educational Psychology and that of Educational Psychology and serves on the editorial boards of Educational Psychology Review, Journal of Cognitive Education and Psychology, Asian Journal of Education, and PsyCh Journal.
For information on registration, please contact:
Ms Ivy Lai , CETL
Phone: 3917 8996; Email: laichun2@hku.hk.