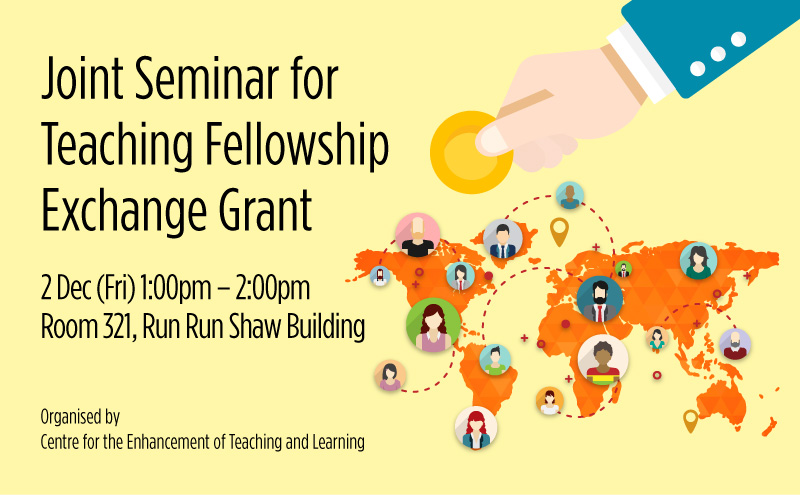 Organised by Centre for the Enhancement of Teaching and Learning (CETL)
Details of the workshop:
Date : 2 December, 2016 (Friday)
Time : 1:00 - 2:00pm
Venue : Room 321, 3/F, Run Run Shaw Building (Main Campus), HKU
Speaker : Dr Richard Wu, Associate Professor, Faculty of Law, HKU;
Prof Andrew Godwin, Senior Lecturer, Director, Studies, Banking and Finance Law, The University of Melbourne;
Ms Julienne Jen, Principal Lecturer, Department of Professional Legal Education, HKU
Facilitator : Dr Luke Fryer, Associate Professor, CETL, HKU

Abstract
Dr Richard Wu and Ms Julienne Jen, both from the Department of Professional Legal Education, Faculty of Law, have successfully applied for Teaching Fellowship Exchange grants recently, looking into different aspects of experiential learning in the context of professional legal education.
In the recent years, experiential learning has become popular not only in law schools but also other professional disciplines in the University. Nowadays, apart from strengthening their knowledge base, gaining of practical skills is also one major aim of University education, in order to equip our students in an international competitive environment. Through sharing of their experience and ideas, the speakers wish to share and promote different forms of experiential learning at the University.
Dr Richard Wu visited the Melbourne Law School and exchanged experience with Professor Andrew Godwin, who developed a "Transactional Law" approach in legal education. At the sharing session, Dr Wu and Professor Godwin will introduce and share their experience and strategies in implementing this "Transactional Law" approach model in the different law subjects which they teach, and how to expand this concept across jurisdictions.
Ms Julienne Jen is involved in teaching the Clinical Legal Education course at the University, which advocates the "learning through discipleship" model in professional legal education. Ms Jen visited several "Legal Clinics" run by the Monash University Law Faculty and obtained an insight into how the Legal Clinics were run, with the aim of further enhancing the Clinical Legal Education programme at the University. At the sharing session, Ms Jen will introduce the "learning through discipleship" model of teaching and share her experience and insights with a view to promoting such practice to other law curricula and professional disciplines.
About the Speaker
Dr Richard Wai-sang Wu, Associate Professor, LLB (HKU) PCLL (HKU), BSc (Economics), LLM (London), MBA (Warwick), LLB, LLM (Peking), LLM (IT and Telecommunications Law) (Strathclyde) and PhD (London). Dr Wu teaches Property Transactions, China Practice and Professional Practice in the Faculty of Law, University of Hong Kong. He is active in interdisciplinary legal research, and his current research focuses on four major areas: Legal Profession, Legal Education and Legal Ethics in Hong Kong and China; Telecommunications Law and Policy in Hong Kong; Real Estate Law and Practice in Hong Kong and China; and Chinese Banking Law. Over the years, Dr Wu has published refereed articles in international journals and contributed chapters to academic books published in China and overseas. He has also presented papers at numerous international conferences. In recent years, Dr Wu has succeeded in numerous research grant applications from both local and international funding bodies.
Prof Andrew Godwin is a Senior Lecturer and Director in Transactional Law, Director of Studies in Banking and Finance Law and the Associate Director of the Asian Law Centre of the Melbourne Law School. Professor Godwin spent over 15 years in full-time practice, 10 of which were spent in Shanghai. Professor Godwin's teaching and research interests include finance and insolvency law, securities disclosure, regulation of legal profession and Chinese law. Professor Godwin also trained lawyers and regulators in the area of drafting and negotiation. Professor Godwin is a regular contributor to academic and professional publication.
Ms Julienne Jen, LLB (London), PCLL (HKU), LLM (London) is a solicitor admitted in the High Court of Hong Kong and the Supreme Court of England and Wales. Prior to joining the University, Ms. Jen practised as a solicitor in the litigation department of an international law firm in Hong Kong. She currently teaches the PCLL and is a strong advocate of experiential learning. She coordinates the Civil Litigation course in the PCLL curriculum and adopts a case file and transactional approach in teaching. She is also involved in adopting the "learning through discipleship" approach in the Clinical Legal Education course and pioneered the use of "Standardised Clients" in the teaching of her courses. Ms. Jen was the recipient of the Faculty Outstanding Teaching Award in 2014.
For information, please contact:
Ms. Noranda Zhang , CETL
Phone: 3917 4729; Email: noranda@hku.hk​