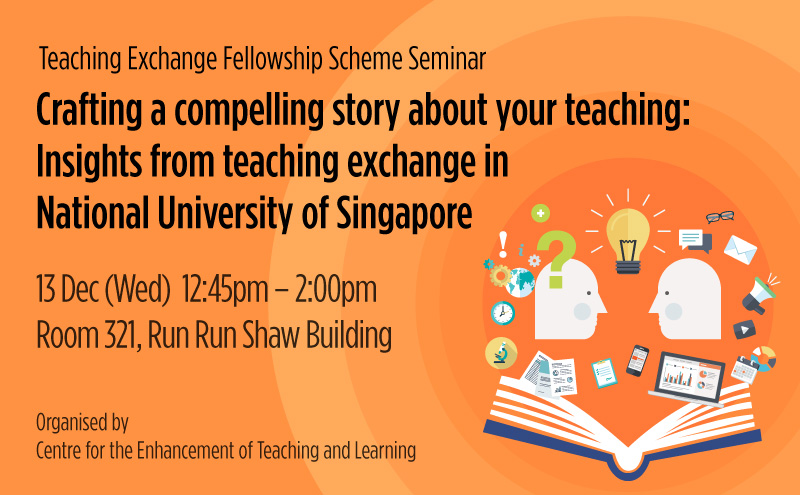 Organised by Centre for the Enhancement of Teaching and Learning (CETL)
Details of the workshop:
Date : December 13, 2017 (Wednesday)
Time : 12:45 pm – 2:00 pm
Venue : Room 321, 3/F, Run Run Shaw Building (Main Campus), HKU
Speaker : Dr Tracy Zou, Assistant Professor, CETL, HKU
Discussant : Prof. Chng Huang Hoon, Associate Provost (Undergraduate Education), National University of Singapore
Facilitator : Dr Luke Fryer, Associate Professor, CETL, HKU

Abstract
What would you say if you are asked: Can you share something about your teaching? Most of us spend considerable time and effort on teaching as part of our university life, but may not have really thought about how to discuss how we teach and why we teach. Being able to craft a compelling story about our teaching in today's higher education environment is an important means of reflecting on our practice and sharing our pedagogy and outcomes. I would like to share some insights gained from a two-week visit at the Centre for Development of Teaching and Learning in National University of Singapore (NUS). During the visit, I had lively conversations with colleagues about how to demonstrate and provide evidence for teaching excellence. The ideas that I will discuss in this seminar include the multiple aspects of teaching, the role of Scholarship of Teaching and Learning (SoTL) in enhancing practice, engaging students as partners in course design, and how these can enable us to craft a compelling teaching story. These ideas are also based on conversations with a few leading figures in academic development, including Prof. Denise Chalmers (The University of Western Australia), Prof. Peter Felten (Elon University), Prof. Dan Bernstein (The University of Kansas), Prof. Chng Huang Hoon (NUS), and Dr. Johan Geertsema (NUS), as well as insights from the first SoTL-Asia Conference held in NUS (http://nus.edu.sg/sotl-asia/). Prof. Chng will also join us as a discussant and offer her comments on this topic.
About the Speaker
Dr. Tracy Zou is an Assistant Professor in the Centre for the Enhancement of Teaching and Learning. She has been actively engaged in identifying, collecting, and promoting exemplary teaching and learning practices in HKU and beyond through a community of practice approach. Currently, she is leading a UGC-funded cross-institutional teaching and learning project on internationalisation of teaching and learning and building professional capacity. Along with her teaching work, Tracy is also deeply involved in educational research and SoTL, utilising them to inform her practices.
About the Discussant
Prof. Chng Huang Hoon is Associate Provost (Undergraduate Education) of National University of Singapore. She is currently deeply involved in helping to transform the teaching and learning culture in NUS through SoTL. She serves on the advisory boards of the Taylor Institute (University of Calgary) and on both Teaching Learning Inquiry (TLI-The ISSOTL Journal) and the International Journal for Students as Partners (IJSaP). She also serves on the editorial boards of both the International Journal for Academic Development (IJAD) and the Asian Journal of the Scholarship of Teaching and Learning (AJSoTL). She was recently elected to the Board of Directors of ISSOTL, as Regional Vice President (Asia Pacific).
For information, please contact:
Ms. Noranda Zhang , CETL
Phone: 3917 4729; Email: noranda@hku.hk​