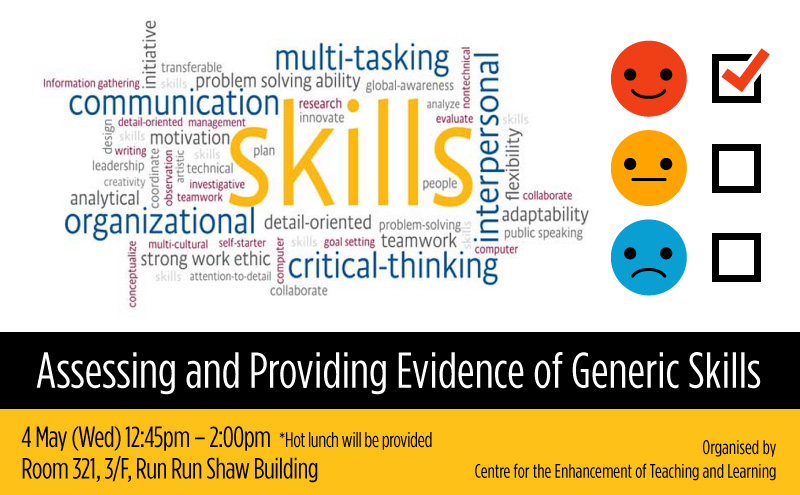 Organized by
Centre for the Enhancement of Teaching and Learning (CETL)
Details of the workshop:
Date : 4 May, 2016 (Wednesday)
Time : 12:45pm – 2:00pm
Venue : Room 321, Run Run Shaw Building

Abstract:
As the world moves towards knowledge-based economies, increased emphasis is being placed on graduates' acquisition of generic skills competency along their disciplinary knowledge. Most universities have emphasized the skills development in their educational outcomes.
A mixed method study conducted in Hong Kong with a representative sample of over 2500 undergraduate students from three research-intensive universities found that majority of the students believe that generic skills are important and are better developed through activities particularly in extra-curricular and out-of-class activities such as internship, experiential learning, student societies and residential education.
In this workshop, we will introduce a framework for the development of generic skills based on the concept of "avoider" and "engager" on student approaches to learning in oppose to the well-known deep and surface approaches. We will also discuss how these skills can be assessed (if it should be assessed at all) and how can students document these learning outcomes as part of their learning process?
Facilitators
Dr. Cecilia Chan, Head of Professional Development, Associate Professor
About the Speaker:
Dr. Cecilia Chan
Head of Professional Development/Associate Professor
Dr. Cecilia Chan is the Head of Professional Development and an Associate Professor in the Centre of the Enhancement of Teaching and Learning at The University of Hong Kong (HKU). Cecilia has a dual cultural background; she was originally born in Hong Kong but grew up in Ireland. In addition to her dual cultural background, she also has a dual discipline expertise in engineering and education; she has been playing an important role in enhancing engineering, business and science education. Her combined expertise in these fields and multi-cultural experience enabled her to lead and conduct research on topics such as assessment, technology enhanced learning and the development and assessment of 21st century skills from east to west in the different disciplines.
Cecilia holds a PhD in Engineering from Trinity College, a postgraduate diploma and a MA in Higher Education. She also held a Fellowship from King's College London. She has received many teaching awards and has over 15 years of effective practical experience in engaging students. Cecilia is also the recipient of the HKU outstanding young researcher award 2015/16.
For information, please contact:
Ms. Noranda Zhang , CETL
Phone: 3917 4729; Email: noranda@hku.hk​