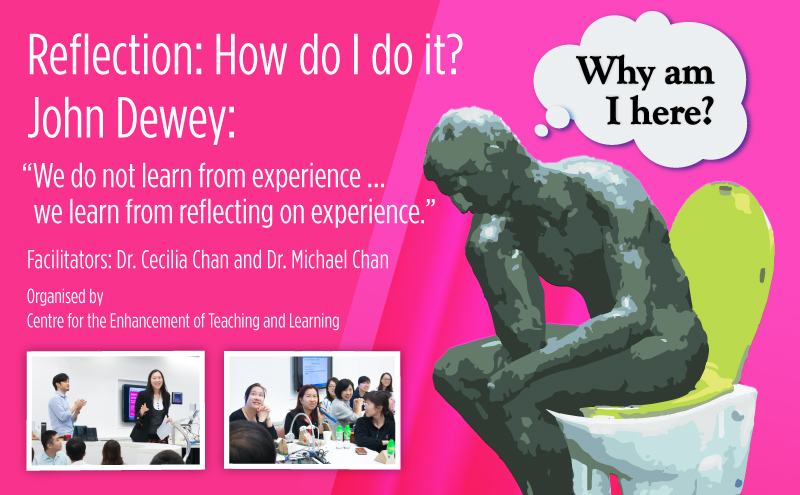 Organized by
Centre for the Enhancement of Teaching and Learning (CETL)
Workshop Summary:
Dr. Cecilia Chan, the Head of Professional Development and Associate Professor from the Centre of the Enhancement of Teaching and Learning (CETL), presented a workshop entitled "Reflection: How do I do it?" in collaboration with Dr. Michael Chan, a research staff from CETL. As usual, the workshop was highly interactive and has attracted over 65 participants across different disciplines to attend.
Cecilia started the workshop with an introduction and a sharing with the participants regarding the implementation of reflection within the curriculum. To motivate participation and making the workshop more fun, Cecilia employed her usual and effective strategy in which casino chips were awarded to anyone actively participating in the workshop; those amounting over ten chips would receive a special price from her.
Cecilia then presented a simple definition of reflection by Jenny Moon and pointed out that reflection assesses the 'why' and 'how' of learning, and the potential benefits in attaining learning from the application of reflection. Next, she gave a description on how reflection can be a powerful and effective tool to achieve learning, and suggested that making time and planning opportunities for reflection as well as training in reflective methods can help to ensure teachers' and students' regular reflection.
In the next section, Dr. Michael Chan further elaborated on the concept of reflection by making a distinction between description and reflection of our everyday encounters and practices. Within an academic contexts, Michael used David Kolb's Experiential Learning Model (ELM) and John Driscoll's "What" Model of Reflective Practice to emphasize the core idea of the workshop that experience alone does not necessarily lead to learning, but reflection on the experience is essential.
Next, he discussed ways to implement reflection in the curriculum by giving examples of different assessment methods of reflective writings. In focusing on the method of reflective journal, Michael introduced Jenny Moon's generic framework in assessing reflective journals, and led an exercise with the attendees to assess on a few sample of student's reflective writings and discussed on ways to motivate students to become more reflective in their learning.
Passing back to Cecilia, she made a final examination on the concept of reflective learning by presenting the Chain of Mirrors – the Metacognitive Learning Process which involves the Rationale, Self-Understanding, Expectation, Experience, Learning, Reflection, and Self/Peer Appraisal process – a process that she has developed and used in many out-of-classroom curriculum. This learning process was discussed along with the actual activities that can be developed especially for out of classroom learning (a sample worksheet for experiential learning, out-of-classroom learning and other unstructured curriculum was provided). The interactive workshop ended with an open discussion on a critical question regarding the issue of reflection and learning – whether reflection should be assessed in higher education and how. Cecilia argues that reflection is not merely knowledge but a combination of skills, emotions and personal experience; there is no black and white but with different shades of grey. It is thus difficult to judge and assess reflection, unless very clear guidelines are given and even then, only certain elements can be assessed.
Lastly, the participants gave their reflections about the workshop by writing them on post-its and placing them on the wall. The comments on the post-its showed that the workshop was a success. The participants expressed their satisfaction with the workshop: the learning they have gained regarding the topic of reflection and how it can implement into the curriculum, and how it inspired them to be more conscious to take time in reflecting more deeply on their daily life and work.
Details of the workshop:
Date : 5 April, 2016 (Tuesday)
Time : 12:45pm – 2:00pm
Venue : Room 321, Run Run Shaw Building

Abstract:
In academic contexts, reflection is an essential tool for both teaching and learning. It refers to the active intellectual monitoring and evaluation of one's own formal learning and professional practice activities, and this very process that leads to new knowledge and self-understanding. This workshop would focus specifically on the context of reflective learning, and examines how reflection can be an essential part of teaching and learning within higher education. By exploring the possible conceptualization and implementation of reflective learning within the different disciplines, we will discuss and share insights and tools on how to motivate, engage, and assess the learning of students through reflection.
Facilitators
Dr. Cecilia Chan, Head of Professional Development, Associate Professor, CETL
Dr. Michael Chan, Project Officer, CETL
About the Speaker:
Dr. Cecilia Chan
Head of Professional Development/Associate Professor
Dr. Cecilia Chan is the Head of Professional Development and an Associate Professor in the Centre of the Enhancement of Teaching and Learning at The University of Hong Kong (HKU). Cecilia has a dual cultural background; she was originally born in Hong Kong but grew up in Ireland. In addition to her dual cultural background, she also has a dual discipline expertise in engineering and education; she has been playing an important role in enhancing engineering, business and science education. Her combined expertise in these fields and multi-cultural experience enabled her to lead and conduct research on topics such as assessment, technology enhanced learning and the development and assessment of 21st century skills from east to west in the different disciplines.
Cecilia holds a PhD in Engineering from Trinity College, a postgraduate diploma and a MA in Higher Education. She also held a Fellowship from King's College London. She has received many teaching awards and has over 15 years of effective practical experience in engaging students.
Dr. Michael CHAN
Project Officer
Dr. Michael Chan received a M.A degree in Cultural and Religious studies and a Ph.D in Religious Studies both from the Chinese University of Hong Kong in 2010 and 2015 respectively. As an Adjunct Lecturer for different higher education institutions in Hong Kong, he teaches undergraduate courses on comparative culture and religion, particularly on the development of contemporary religious traditions and its connection with current global issues.
Michael is responsible in managing and executing different research projects on teaching and learning at CETL. Apart from working on the Centre's latest project on developing and assessing generic skills in engineering education, he is keen to explore avenue of teaching and learning that approximates to his own research interest in culture and religion, particularly on the impact of ethnic diversity and multiculturalism on teaching and learning approaches and experiences.
For information, please contact:
Ms. Noranda Zhang , CETL
Phone: 3917 4729; Email: noranda@hku.hk​