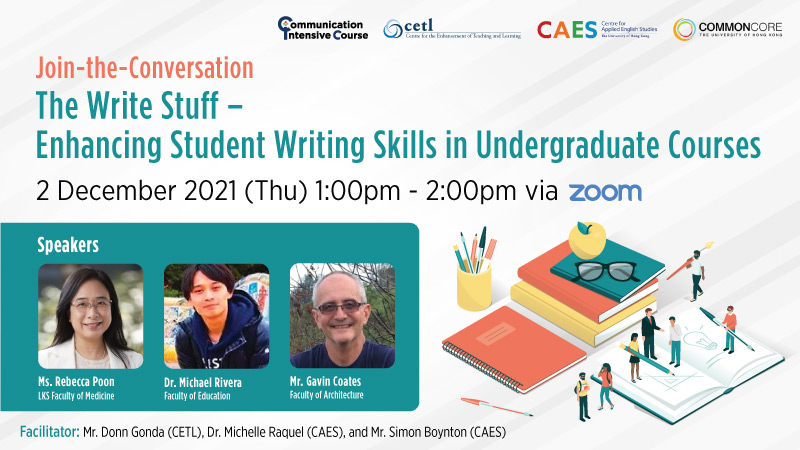 Organised by Centre for the Enhancement of Teaching and Learning, Centre for Applied English Studies, and the Common Core
Details of the Event:
Date : 2 December 2021, (Thursday)
Time : 1:00pm – 2:00pm
Venue : Zoom
Speakers : Ms. Rebecca Poon, Mr. Gavin Coates, Dr. Michael Rivera
Facilitator : Mr. Donn Gonda (CETL), Dr. Michelle Raquel (CAES), and Mr. Simon Boynton (CAES)

(HKU Portal login required)
Abstract
Many undergraduate courses have a writing component and students need to gradually develop and improve their writing skills over the course of their undergraduate career. One way to achieve this goal is to have engaging, relevant writing assessments in courses and provide students with writing support and teaching and learning activities that align with these assessments. In this join-the-conversation event, the speakers will share their experiences of teaching writing skills in one of their undergraduate CI-badged courses.
Applications for Communication-intensive Courses badging are welcome all year around. If your course has embedded any two of the following communication literacies: written, oral, visual, and digital, please contact us at cics@hku.hk or visit https://cics.hku.hk/

About the Speakers
Ms. Rebecca Poon is a Lecturer at the School of Nursing at the Li Ka Shing Faculty of Medicine. She is a registered nurse, a Fellow of the Hong Kong Academy of Nursing (Gerontology) and Center on Ageing, and a Board of Director of Pi Iota At-Large Chapter. She is also the Executive Director of Hong Kong Allergy Association. Her research interests are in the field of gerontology, health care ethics, health promotion and higher education.
Mr. Gavin Coates is a senior lecturer in the Division of Landscape Architecture at HKU, focusing primarily on planting design, landscape technology and biophysical systems. In 2016 he designed and co-taught a Common Core Course entitled 'Nature in the City, Beyond the Concrete Jungle' focusing on the relationship between humanity and nature – this course was rerun as a summer course in 2018, 2019 and 2020 as a hybrid face-to-face and online course. In 2021, Gavin was awarded an HKU Teaching Innovation Award for his submission 'Continuing and Enhancing Field Trip Learning Experiences in the Online and Dual-Mode Teaching Environment'. He is also well known as a children's book author and illustrator.
Dr. Michael B. C. Rivera is a bioarchaeologist and biological anthropologist specializing in the study of human history, evolution and skeletal biology. He is the lead archaeologist managing the excavation of the remains of a US Navy plane that crashed in Hong Kong in 1945. Dr. Rivera has also worked extensively in making archaeological research and scientific work accessible through various forms of teaching, social media and public engagement.

For information, please contact:
Ms. Lavina Luk, CETL
Phone: 3917 5272; Email: ytluk89@hku.hk