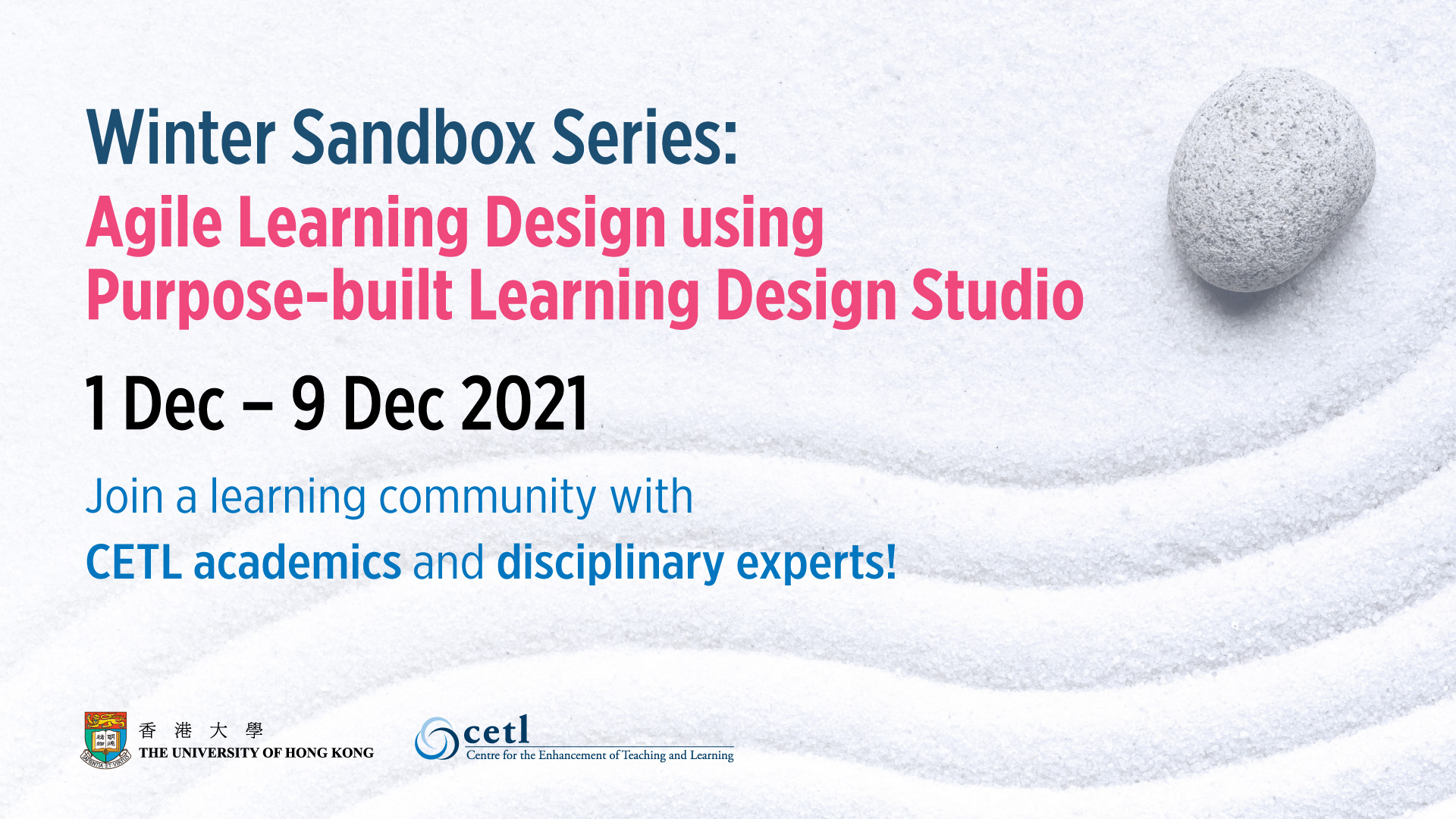 Organised by Centre for the Enhancement of Teaching and Learning (CETL)
Series Abstract
Learning design is a complex, creative, and iterative process involving pedagogical decision-making at multiple levels from course to topic session to learning tasks and resources. Teachers and instructional designers face the challenges of ensuring consistency and alignment across multiple levels and the capacity to cater for diverse student needs in achieving the intended learning outcomes. With the uncertainties posed by the COVID-19 pandemic, teachers face even greater challenges in having to flexibly implement learning designs in different or multiple modes, from face-to-face, blended synchronous, blended asynchronous, to hybrid and hyflex models of learning. Teachers need to be agile and flexible in reusing and repurposing design elements and ensure the pedagogical integrity of their course designs.
Built on the experiences of previous Sandboxes, this series introduces a purpose-built learning design tool, the Learning Design Studio (LDS, developed in CITE, HKU), to be used within the context of four themes in agile learning design: (1) Mission-focused inquiry approach for student success in different disciplines, (2) Case-based learning and designing for aligned assessment, (3) Student-staff partnerships and engagement, and (4) Learning spaces and learning environments. The workshops will highlight how LDS can facilitate the sharing and adaptation of design patterns for agile (re-)design, using the design patterns embedded in the four Sandboxes. Participants will have hands-on opportunities to explore how to make use of design patterns within the context of their own course (re-)designs.
All sessions will give participants a space for creative thinking, expert feedback, and support for iterative redesigns. We shall adopt the following format:
Presentation: This part will involve a presentation on the Sandbox theme
Hands-on Learning Design: The second part involves hands-on learning design using LDS, and is organized into cognate disciplinary groups to foster the building of a community of learning design professionals, comprising teachers, disciplinary experts, and instructional designers.
Experience Sharing: At the end of each hands-on learning activity, participants will have the opportunity to share their work and thoughts regarding their course (re-)design.
We are excited to have you join us in this series! Let's create more engaging learning experiences for our students with agility and expedience using a professional learning design tool!
This series will be delivered in a hybrid format, and participants can choose to join the session via Zoom or face-to-face. Each session will adopt a workshop format, and our recommendation is to join the face-to-face session for a better learning experience. Kindly check the details of each session for more information.
For face-to-face participants: To ensure that the seminar is held according to the guidelines on infection control measures for HKU events, limited seating of up to 45 people people will be implemented. Please note that registration will be on a first-come, first-served basis.
For information, please contact:
Ms. Lavina Luk, CETL
Phone: 3917 5272; Email: ytluk89@hku.hk