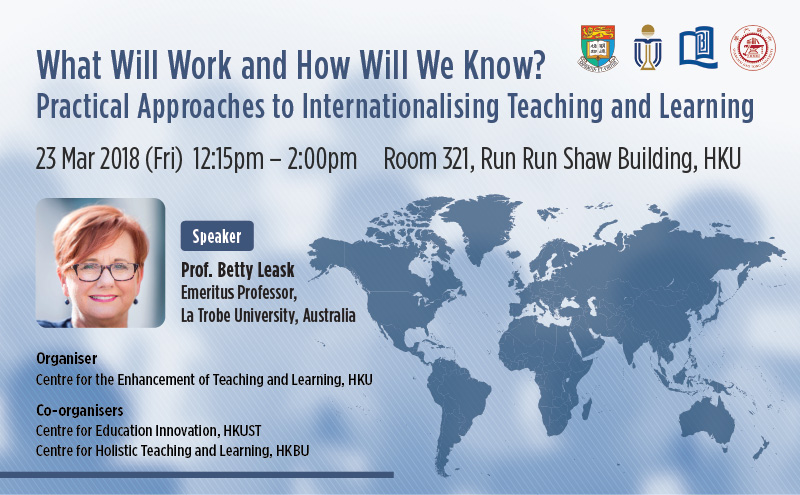 Details of the workshop:
Date : 23 March 2018 (Friday)
Time : 12:15pm - 2:00pm
Venue : Room 321, 3/F, Run Run Shaw Building (Main Campus), HKU
Speaker : Prof. Betty Leask, Emeritus Professor, La Trobe University, Australia
Facilitator : Dr. Tracy Zou, Assistant Professor, Centre for the Enhancement of Teaching and Learning, HKU

Event Detail
Event Summary
Event Gallery
Abstract
Much has been written and said about the internationalisation of teaching and learning in higher education at HKU and beyond. However, this endeavour is still very much a work in progress. In this workshop, Prof. Betty Leask will focus on practical approaches to the internationalisation of teaching and learning. Following discussion of examples of innovation and intervention to improve teaching, learning and internationalisation from a range of places, workshop participants will identify possibilities to internationalise the experience of their students in class and/or on campus. Individuals and teams of teachers will begin the process of designing their own pilot projects and identifying criteria by which they will measure the success of their project.
As part of a series of events, this workshop is organised by CoP – ITL (https://er.talic.hku.hk/cop-itl/). All are welcome. Members of CoP – ITL may find this workshop particularly relevant to idea development for their potential pilot projects.
About the Speaker
Prof. Betty Leask is an Emeritus Professor in the Internationalisation of Higher Education at La Trobe University, Melbourne, Australia. Betty is an internationally renowned researcher and thought leader on internationalisation of the curriculum and higher education whose work bridges theory and practice in unique ways. She has a broad range of experience in universities, most recently as Deputy Vice-Chancellor Academic at La Trobe University. She has been a Senior Australian Teaching Fellow since 2010. In 2015 she was awarded the IEAA Excellence Award for Distinguished Contribution to International Education and in 2016 the European Association for International Education (EAIE) Tony Adams Award for Excellence in Research. Betty is also Editor-in Chief of the Journal of Studies in International Education, the leading journal in the field, an Honorary Visiting Researcher at the Centre for Higher Education Internationalisation at Universita Cattolica del Sacro Cuore Milan. Prof. Leask is an international advisor to CoP – ITL.
Consistent with our vision to work collaboratively, we organised our second event – a workshop on practical approaches to internationalising teaching and learning, together with our local partners from HKUST and HKBU. The workshop has attracted more than forty participants from all of the partner institutions and beyond. It is our great honour to have Prof. Betty Leask, our CoP – ITL International adviser, as the speaker of the workshop. In the workshop, Prof. Leask shared with us some insightful approaches to internationalising teaching and learning and evaluating their impact.
The workshop started with a brief ice-breaking activity within groups in which each participant was asked to share the meaning of his or her name to another participant. This activity conveyed how cultural elements may come into play in a simple detail. This was followed by explication of a new paradigm of internationalisation of the curriculum (IoC hereafter). Prof. Leask presented us with some important steps to IoC. First, identify an issue. Second, identify a possible intervention, which requires copious reading. Prof. Leask drew on different constructive interventions from around the world to illustrate how IoC can be achieved. Third, plan the intervention along with five elements: inputs (intended results of a project), activities (actions related to project goals), outputs (short-term results), outcomes (medium-term results), and finally impact (long-term consequences). Lastly, identify indicators of success. At its core, the success of a project is measured by whether it has had the desired impact. To achieve IoC, it takes ongoing, rather than one-off, initiatives and efforts. Finally, participants were divided into groups to discuss potential interventions to IoC by a SMART goal setting worksheet, with their input and inquiries collected, categorised and elaborated. To end this workshop, Prof. Leask gave us some final words about the keys to success: (1) working collaboratively; (2) planning for success; and (3) being flexible, imaginative and judicious.
For information, please contact:
Ms. Noranda Zhang , CETL
Phone: 3917 4729; Email: noranda@hku.hk​