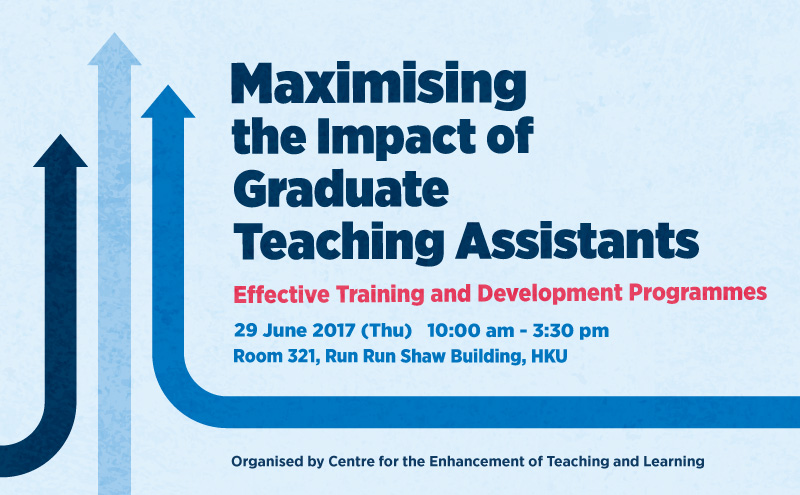 Organised by Centre for the Enhancement of Teaching and Learning (CETL)
Details of the workshop:
Date : 29 June 2017 (Thursday)
Time : 10:00 am - 3:30 pm
Venue : Room 321, 3/F, Run Run Shaw Building (Main Campus), HKU
Facilitators : Dr. Luke Fryer, Associate Professor, CETL, HKU
Facilitators : Mr. Peter Lau, Lecturer, CETL, HKU
Facilitators : Dr. Ada Lee, Lecturer, CETL, HKU
Hot lunch will be provided.

This forum aims to provide a platform to discuss how to provide effective training and development of teaching skills for Graduate Teaching Assistants (GTAs). Forum speakers, including teachers, administration staff and postgraduate students, from various local universities will share their experience, good practices and the challenges they have encountered. Discussion will include, but not be limited to the following sub-themes:
Roles and responsibilities of GTAs in academic department
Reflective teaching
Challenges encountered in teaching
Challenges to balance teaching and research duties
Expectations for the training programme
How to engage GTAs in training programme
Feedback on teaching performance
Collaboration with teaching departments
Evidence of how GTAs benefit from training programme
We believe that postgraduates have great potential to achieve both teaching and research. All research supervisors, faculty members, administration staff and students are welcome to join us in co-constructing a way forward through the challenges our students face in seeking to maximise their teaching impact.
For information, please contact:
Ms. Noranda Zhang , CETL
Phone: 3917 4729; Email: noranda@hku.hk​