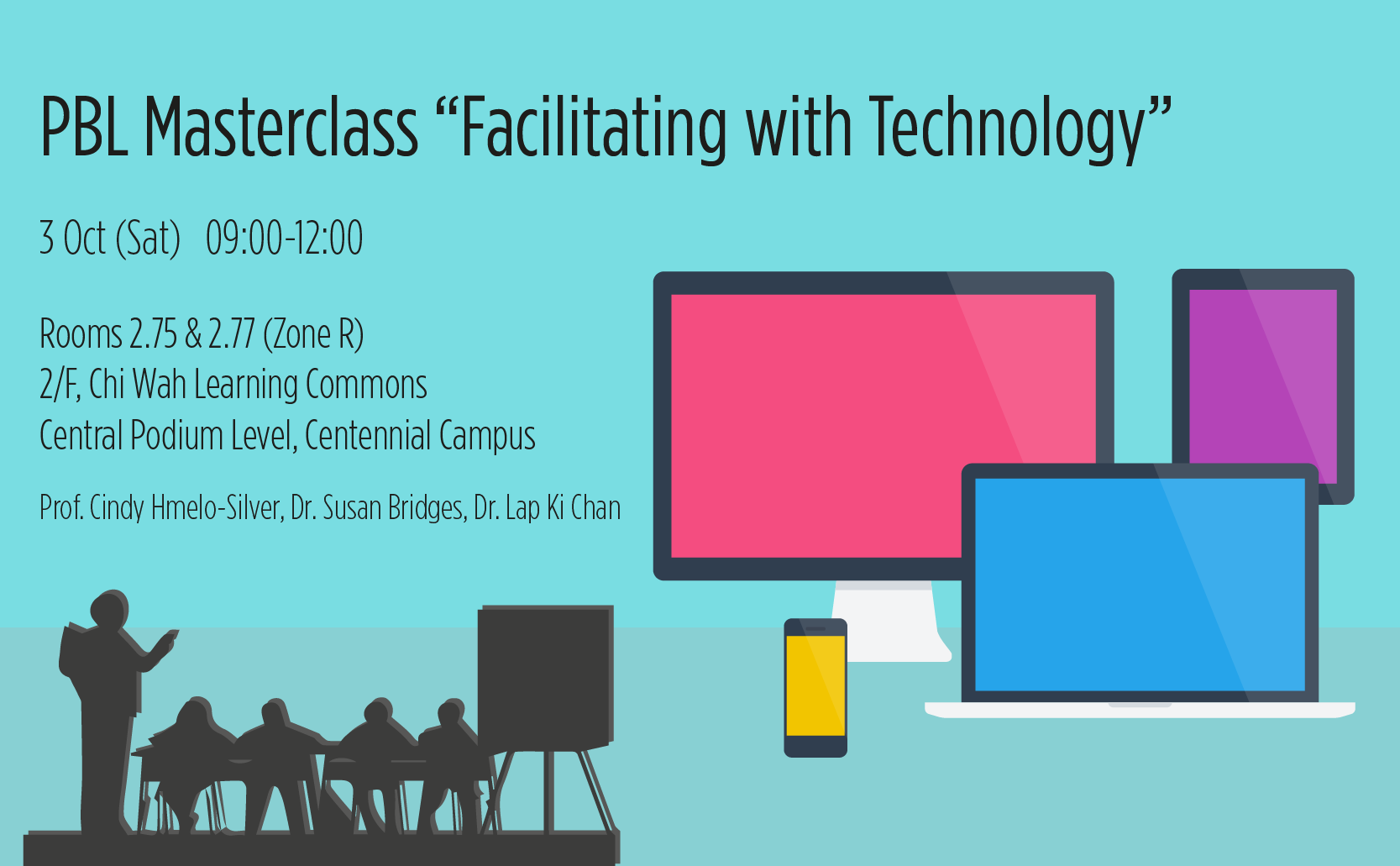 Co-organized by Li Ka Shing Faculty of Medicine, Faculty of Education amd Centre for the Enhancement of Teaching and Learning (CETL)
Details of the workshop:
Date : 3 October, 2015 (Sat)
Time : 9am – 12:00noon
Venue : Rooms 2.75 & 2.77 (Zone R), 2/F, Chi Wah Learning Commons, Central Podium Level, Centennial Campus (you are advised to use the main entrance on the ground floor, and take the spiral staircase to 2/F, and follow the signs 'Zone O-P' and then 'Zone J-L' in order to reach zone R.)
Facilitator: Dr. Susan Bridges, Assistant Dean (Curriculum Innovation), Faculty of Education, Associate Professor, CETL

"This PBL masterclass is open to all teaching staff at HKU, especially those interested in facilitating in problem-based learning (PBL). A special focus is to explore how new technologies (mobile devices, online platforms etc) are being purposefully incorporated into face-to-face and online facilitation. Our local and international speakers will share their educational research and classroom experience in the use of educational technologies in PBL.
Topics covered in this half-day event include: "PBL Facilitation – The Challenges with Technology"; "How do HKU health professional students use their mobile devices during PBL? A cross-programme survey"; "Blended Learning and PBL – Interactional Perspectives"; and "Revisiting the Goals and Strategies for PBL Facilitation". Participants will have the opportunity to exchange their ideas and experiences with speakers and other colleagues. The PBL Masterclass will close with a pre-launch of the forthcoming volume "Educational technologies in Medical and Health Sciences Education" edited by Susan Bridges, Lap Ki Chan, and Cindy Hmelo-Silver hosted by the Faculty of Education."
About the Speakers:
Prof. Cindy Hmelo-Silver is Director of the Center for Research on Learning and Technology and Professor of Learning Sciences at Indiana University. She is past president of the International Society of the learning sciences. Her research focuses on learning in complex domains, computer-supported collaborative learning, and technology support for problem-based learning. She studies how cognitive and socio-cultural factors mediate learning and transfer in these environment through a program of design-based research. She has worked with populations ranging from middle school students to pre-service teachers to medical students. She has edited several books on collaborative learning and is past editor-in-chief of the Journal of the Learning Sciences.
Dr. Lap Ki Chan, M.B.B.S. (HK), F.H.K.A.M., F.H.K.C.O.S. (Orthopedics), F.R.C.S. (Edinburgh), Ph.D. (Duke), is an Assistant Dean (Pedagogy) at the Li Ka Shing Faculty of Medicine and an associate professor in the School of Biomedical Sciences, The University of Hong Kong. He has a background in orthopedics and physical anthropology and teaches gross anatomy to medical students. His research interests include innovative pedagogies in anatomy education, problem-based learning, and faculty development. He is the co-director of the Staff and Professional Development Program and was the chairperson of the PBL Subcommittee in the medical faculty. He is a Visiting Professor at Zhongshan School of Medicine and Hainan Medical University and an educator for the Asia Pacific region for the AO Foundation (Arbeitsgemeinschaft für Osteosynthesefragen), primarily offering services in faculty development. His teaching excellence has been recognized by such awards as the Thomas Henry Huxley Instructorship from Duke University, and most recently, an Outstanding Teaching Award from The University of Hong Kong. He serves as an associate editor for Anatomical Sciences Education and has edited, with Professor Wojciech Pawlina, "Teaching Anatomy – A Practical Guide," published by Springer.
Dr. Susan Bridges is Assistant Dean (Curriculum Innovation) with the Faculty of Education and an Associate Professor with the Centre for the Enhancement of Teaching and Learning at The University of Hong Kong. Her work focuses on curriculum and staff development, including e-learning initiatives, to enhance student learning outcomes. She holds a 2012 HKU Outstanding Teaching Award (Team) for work on blended learning in Dentistry. Her research interests are interactional and ethnographic, exploring the 'how' of effective pedagogy. She has published widely on problem-based learning and is currently leading an international, cross-disciplinary team in GRF-funded research programme examining PBL and educational technologies across Medicine, Dentistry, and Speech and Hearing Sciences.
For information on registration, please contact:
Ms. Henrietta Lai
Email: laiyy104@hku.hk.