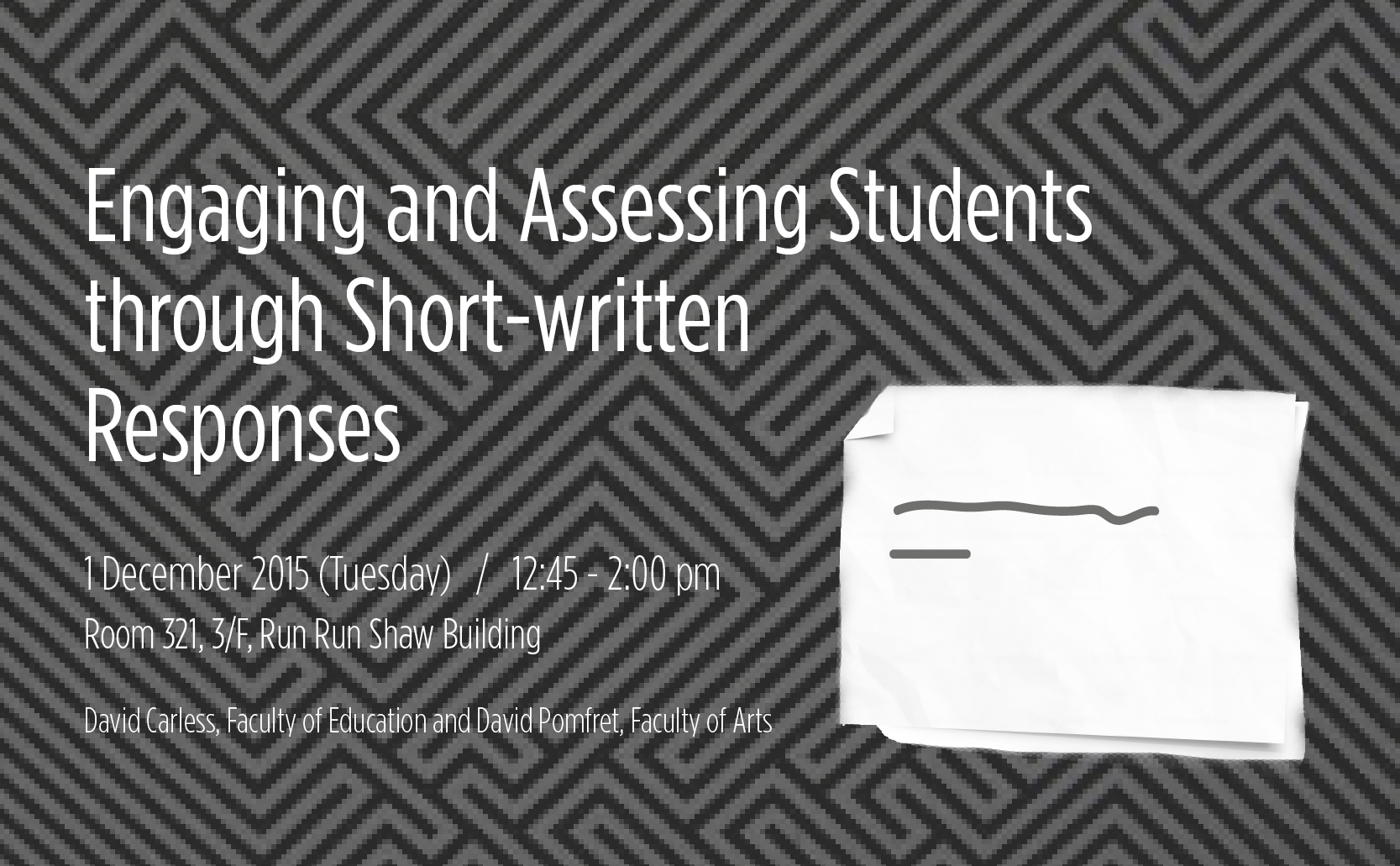 Organized by
Centre for the Enhancement of Teaching and Learning (CETL)
Engaging and Assessing Students through Short-written Responses
Date: 1 December 2015 (Tuesday)
Time : 12:45 - 2:00 pm
Venue : Rm 321, Run Run Shaw Builiding
Speakers : David Carless, Faculty of Education and David Pomfret, Faculty of Arts

Abstract:
In this seminar, we share our experiences of an innovation which aimed to involve all students actively in class. Students are assessed on short in-class written responses to an issue to be addressed in the following lecture. David Pomfret pioneered this strategy with History students and in the Common Core; David Carless observed his implementation and later tried it out with Education students. Positive findings include promoting student engagement; and enabling teachers to understand students' prior knowledge before the next session. Challenges include the difficulty of assessing the short responses efficiently and reliably. Some alternative modes of promoting student engagement through short responses are also discussed.
About the Speakers:
Professor David Carless is Associate Dean (Learning and Teaching) in the Faculty of Education. He specializes in learning-oriented approaches to assessment and his most recent book is entitled, Excellence in university assessment: Learning from award-winning practice (Routledge, 2015).
Dr David M. Pomfret is Associate Professor and chairperson of the Department of History. He publishes in the history of Europe and its empires, and his most recent book is Youth and Empire: Trans-colonial Childhoods in British and French Asia (Stanford University Press, 2015). He was awarded the UGC Teaching Excellence award in 2012.
For enquiries, please contact Ms Janice Leung by email janiceleung331@hku.hk