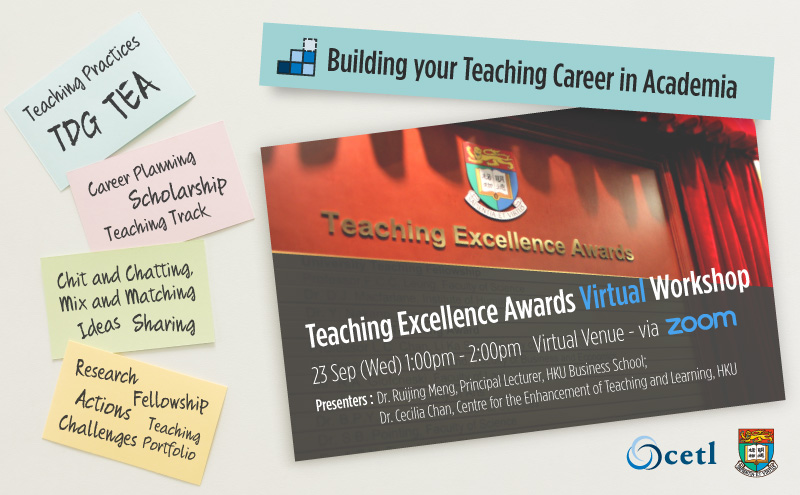 Organised by Centre for the Enhancement of Teaching and Learning (CETL)
Details of the workshop:
Date : 23 Sep 2020 (Wednesday)
Time : 1:00pm – 2:00pm
Venue : Virtual Venue – via zoom
Presenters : Dr. Ruijing Meng, Principal Lecturer, HKU Business School; Dr. Cecilia Chan, Centre for the Enhancement of Teaching and Learning, HKU

Abstract
This is part of a workshop series to help both new and experienced teachers to realise the resources available for teaching in the university.
This workshop is open to all teaching staff who are interested in finding out more about the different Teaching Excellence Awards. Staff will be provided with an overview of the award schemes, the key selection criteria, and some suggestions on preparing an evidence-based teaching portfolio. An award winner will share with us her experience of applying for the award. Staff who are thinking about making an application in the next round are strongly encouraged to attend this workshop. Staff who are not sure, or would simply like to know more about the scheme, are also very welcome.
The deadline for the next round of application is Friday, October 23, 2020. Please refer to the circular on Teaching Excellence Award Scheme, 2020 here: https://tl.hku.hk/teaching-excellence-awards/
About the Speaker
Dr. Rujing MENG is the Director of Master of Finance Programme, Director of Master of Finance in Financial Technology, and a Principal Lecturer at the University of Hong Kong (HKU). She was awarded B.A. from Guanghua School of Management, Peking University and Ph.D. from Fuqua School of Business, Duke University.

She teaches and conducts executive education in the area of Capital Markets and Investments, Corporate Financial Management, and Derivatives Pricing. She has received a number of teaching awards, including the University Outstanding Teaching Award 2017; the Faculty Outstanding Teacher Award (Postgraduate Teaching) 2017, 2012, 2006; the Faculty Outstanding Teacher Award (Undergraduate Teaching) 2017; and the HKU-Fudan University International MBA Teaching Award 2014.

Rujing's main research interests include Capital Markets and Investments, Corporate Finance, Real Options, and Risk Management. She has published research papers in reputable international journals. Her research honors include the SAAJ Research Excellence Award in Corporate Finance 2008.

Rujing also regularly writes articles on hot topics of the financial markets in Hong Kong and Mainland. Her articles have been published in Bloomberg Businessweek (China), CAIJING Magazine, Caixin, Financial Times (Chinese), and Shanghai Securities Journal.
For information, please contact:
Mr. Thomas Lau , CETL
Phone: 3917 4807; Email: kanclau@hku.hk​