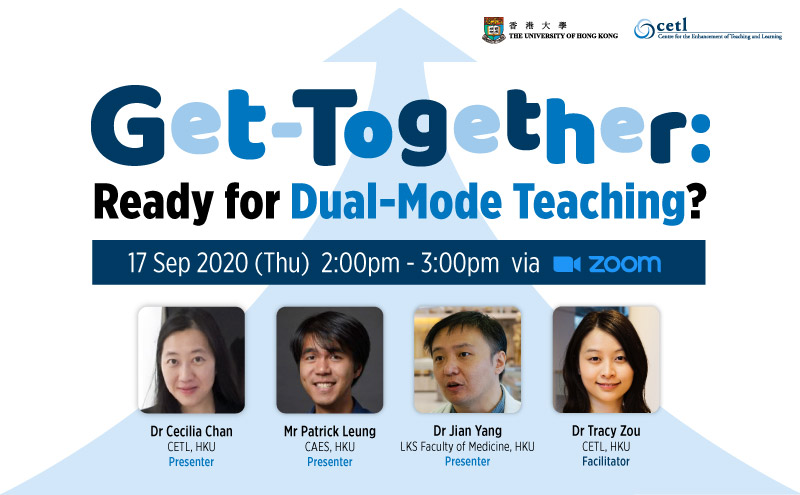 Organised by Centre for the Enhancement of Teaching and Learning (CETL)
Details of the workshop:
Date : 17 Sep 2020 (Thu)
Time : 2:00pm – 3:00pm (Note: this will take place right after the Chit-n-Chatting session)
Venue : Virtual Venue – via zoom
Presenters : Dr. Cecilia Chan, Centre for the Enhancement of Teaching and Learning, HKU; Mr. Patrick Leung, Centre for Applied English Studies, HKU; Dr. Jian Yang, Li Ka Shing Faculty of Medicine, HKU
Facilitator : Dr. Tracy Zou, Centre for the Enhancement of Teaching and Learning, HKU

Abstract
Dual-mode teaching at HKU will start from September 22, 2020. While most courses are available online throughout the current semester, some will have students returning to campus for face-to-face teaching in the classroom. In such mode, we need to engage both the face-to-face and online groups effectively, which can be challenging. Let us get together to discuss and share issues and solutions in order to be ready for the dual-mode teaching.
This session will take place right after the Chit-n-Chatting session on Building Your Teaching Career . Participants who have registered for the Chit-n-Chatting are welcome to stay and join. Colleagues are also very welcome to sign up only for this session on dual-mode teaching.
Look forward to meeting you there. Let us tackle this together!
About the Speaker
| | |
| --- | --- |
| Dr. Cecilia Chan is an Associate Professor in the Centre for the Enhancement of Teaching and Learning and Faculty of Education at The University of Hong Kong (HKU). Cecilia has a dual cultural background; she was born in Hong Kong but grew up in Ireland. In addition to her dual cultural background, she also has a dual discipline expertise in engineering and education; she has been playing a key role in enhancing engineering, and science education as well as teaching and learning in higher education. Her combined expertise in these fields and multi-cultural experience enabled her to lead and conduct research on topics such as assessment and feedback, experiential learning, technology enhanced learning and the development and assessment of 21st century skills spanning in education from east to west. Dr. Chan has developed a framework to assist teachers to integrate competency into the university curriculum and is also researching in approaches to assess these competencies. Her work is being recognized in many parts of Asia. She has been invited as keynote speaker and panel speaker to many international educational conferences in Korea, Singapore, United States, Estonia, United Kingdom, Macau, Thailand, Malaysia, UAE, India and Switzerland on teaching, learning and the assessment of generic competency including the Harvard Graduate School of Education. Cecilia holds a PhD in Engineering from Trinity College, a postgraduate diploma and a MA in Higher Education. She also held a Fellowship from King's College London. Dr. Chan is involved in over 40 research/projects worldwide and was awarded the University of Hong Kong's Young Outstanding Researcher Award. She is the Chair for the Engineering Education Community in Hong Kong and the Founding President for the ASIA Engineering Education Network (AsiaSEE). More information can be found in the Teaching and Learning Enhancement and Research Group (TLERG) website: https://tlerg.cetl.hku.hk/ | |
| | |
| --- | --- |
| Mr. Patrick Leung is Lecturer at the Centre for Applied English Studies at HKU teaching English for academic and specific purposes courses. For several years before Covid-19, he has gained practical and first-hand experience of various forms of online learning and teaching, both as a learner and as a facilitator. Over the last few years, he has obtained accreditation as a certified online educator, remote learning educator and distance learning instructor. | |
| | |
| --- | --- |
| Dr. Jian Yang graduated from Peking University Health Science Center and went on to pursue a PhD in neuroscience at University of Bristol. He joined the Department of Anatomy, the University of Hong Kong after graduation in 2007, and devoted his passion to anatomy and histology education since 2012. He is now a senior lecturer in the School of Biomedical Sciences, LKS Faculty of Medicine, HKU. His teaching expertise include gross anatomy, neuroanatomy, histology and problem-based learning. He dedicates his effort in converting instructional anatomy and histology classes into indispensable active-learning experience. His research focuses on integrating digital/mobile technology to enhance active learning in anatomy and histology labs. The current projects include creating digital learning environment, peer-learning and peer-support system for gross anatomy and histology practicals; developing virtual reality anatomy lab and integrating VR-enriched tasks (VRETs) into gross anatomy classroom to promote active learning. | |
For information, please contact:
Mr. Thomas Lau , CETL
Phone: 3917 4807; Email: kanclau@hku.hk​