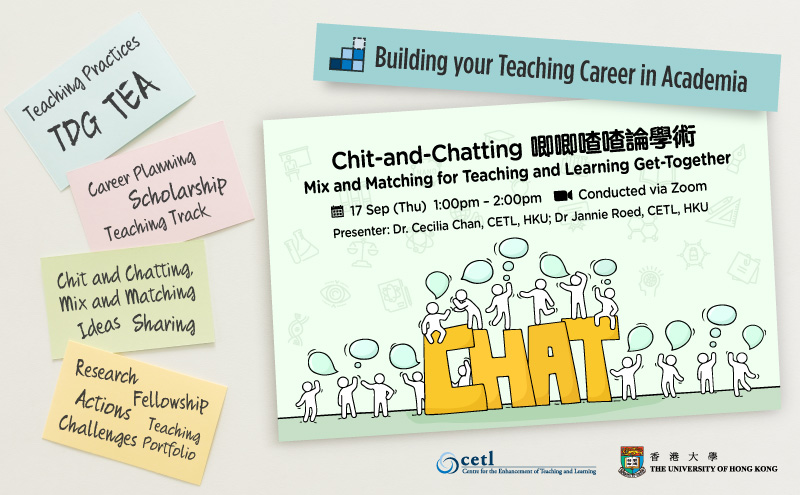 Organised by Centre for the Enhancement of Teaching and Learning (CETL)
Details of the workshop:
Date : 17 Sep 2020 (Thursday)
Time : 1:00pm – 2:00pm
Venue : Virtual Venue – via zoom
Presenters : Dr. Cecilia Chan, Centre for the Enhancement of Teaching and Learning, HKU; Dr Jannie Roed, Centre for the Enhancement of Teaching and Learning, HKU

Abstract
The "Building your Teaching Career in Academia" series includes workshops for both new and experienced teachers to realise the resources available in the university, particularly in terms of teachers' recognition and potential in teaching, ultimately, to build their career in higher education. In this series, teachers will
plan their career (particularly if you are on teaching track),
research into scholarship in teaching and learning with Teaching Development Grants,
chit and chatting, mix and matching on challenges, ideas and actions,
develop teaching portfolio for Teaching Excellence Awards and HEA fellowships,
as well as converse with other teachers who have been engaging in best teaching practices.
After the highly successful International Education 4.0 and the Sandbox series during the summer, the first workshop in this series will take on an easygoing and stimulating format for teachers to continue discuss, disseminate and discover good pedagogies. It will be a chit and chat, mix and matching on challenges, ideas and actions, allowing us to reflect back some of the approaches and incidents during the last 6 months. We will start by introducing some of the potentials and resources in HKU and what professional development plans CETL have for the coming year.
These gatherings require your participation to be successful. Come and join us, I guarantee you fun, challenging and rewarding conversation.
For information, please contact:
Mr. Thomas Lau , CETL
Phone: 3917 4807; Email: kanclau@hku.hk​