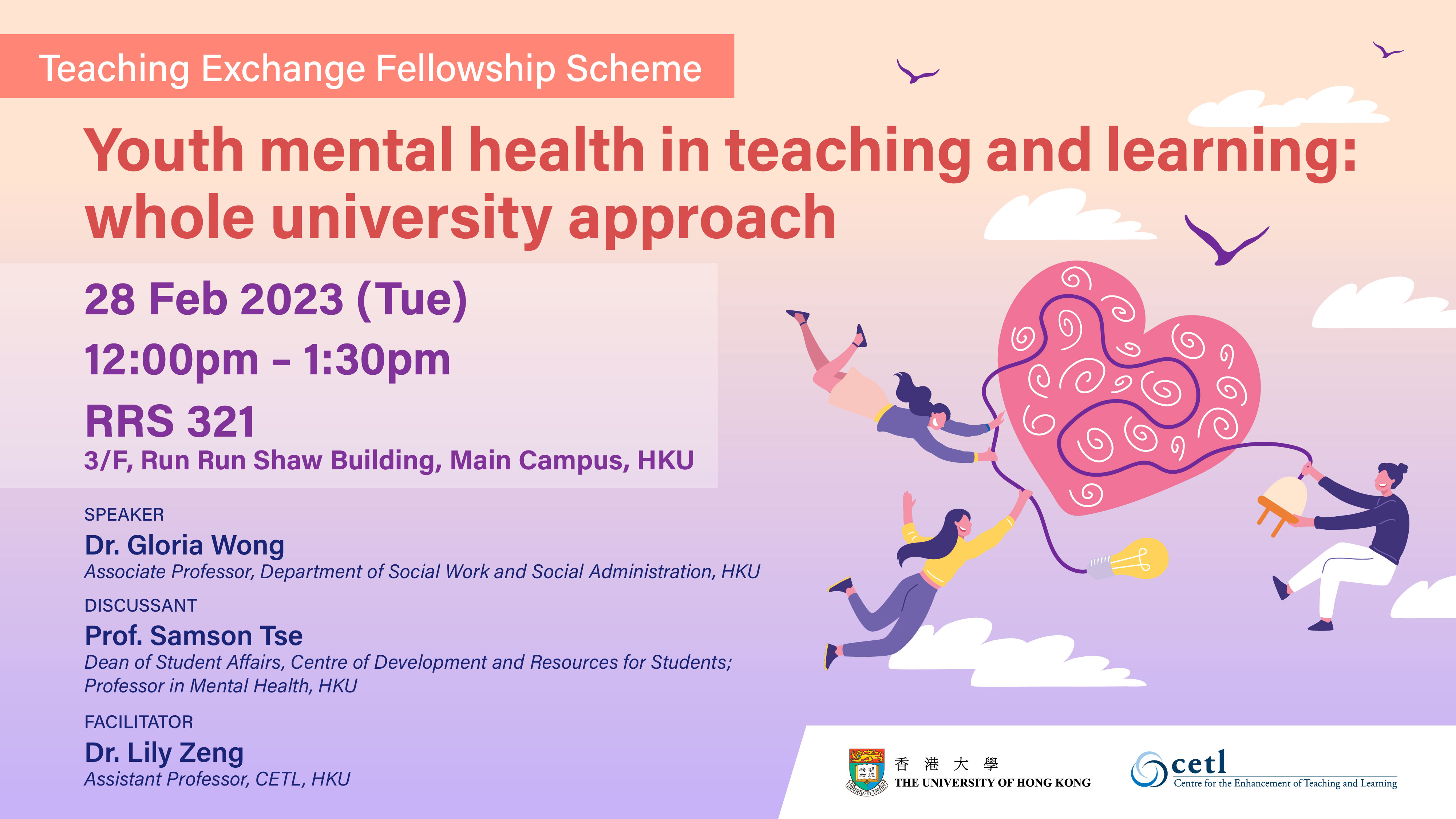 Organised by Centre for the Enhancement of Teaching and Learning (CETL)
Details of the workshop:
Date : 28 February 2023 (Tuesday)
Time : 12:00pm - 1:30pm
Venue : Room 321, 3/F Run Run Shaw Building (Main Campus), HKU
Speaker : Dr. Gloria Wong, Associate Professor, Department of Social Work and Social Administration, HKU
Discussant: Prof. Samson Tse, Dean of Student Affairs, Centre of Development and Resources for Students; Professor in Mental Health, HKU
Facilitator : Dr. Lily Zeng, Assistant Professor, CETL, HKU

Abstract
Student mental health is intricately linked to teaching and learning across disciplines. The seminar will share insights from a site visit to The University of Melbourne, a Universitas21 partner institution and Orygen, Australia's National Centre of Excellence in Youth Mental Health, where the U21 University Mental Health Declaration and the Australian University Mental Health Framework were recently developed. Discussions will be surrounding the emergence of whole university approach to mental health, with youth/student participation as key, and experiential learning opportunities to synergise efforts in promoting mental health and wellbeing. A Wellness@HKU initiative will be introduced.
About the Speaker
Gloria Wong is Vice-Chair of the new Wellness@HKU initiative; Deputy Chair, U21 University Mental Health Group; and Director of the MSocSc(Mental Health) Programme. She was also once a HKU undergraduate and postgraduate student, and has devoted her research and teaching in supporting different groups of people with mental health needs.
About the Discussant
Prof. Samson Tse is currently the Dean of Student Affairs and he is also a Professor in Mental Health specializing in using recovery approach and strengths-based model with people with serious mental illness.
For information, please contact:
Ms. Canice Mok, CETL
Phone: 3917 6069; Email: tsmok@hku.hk​