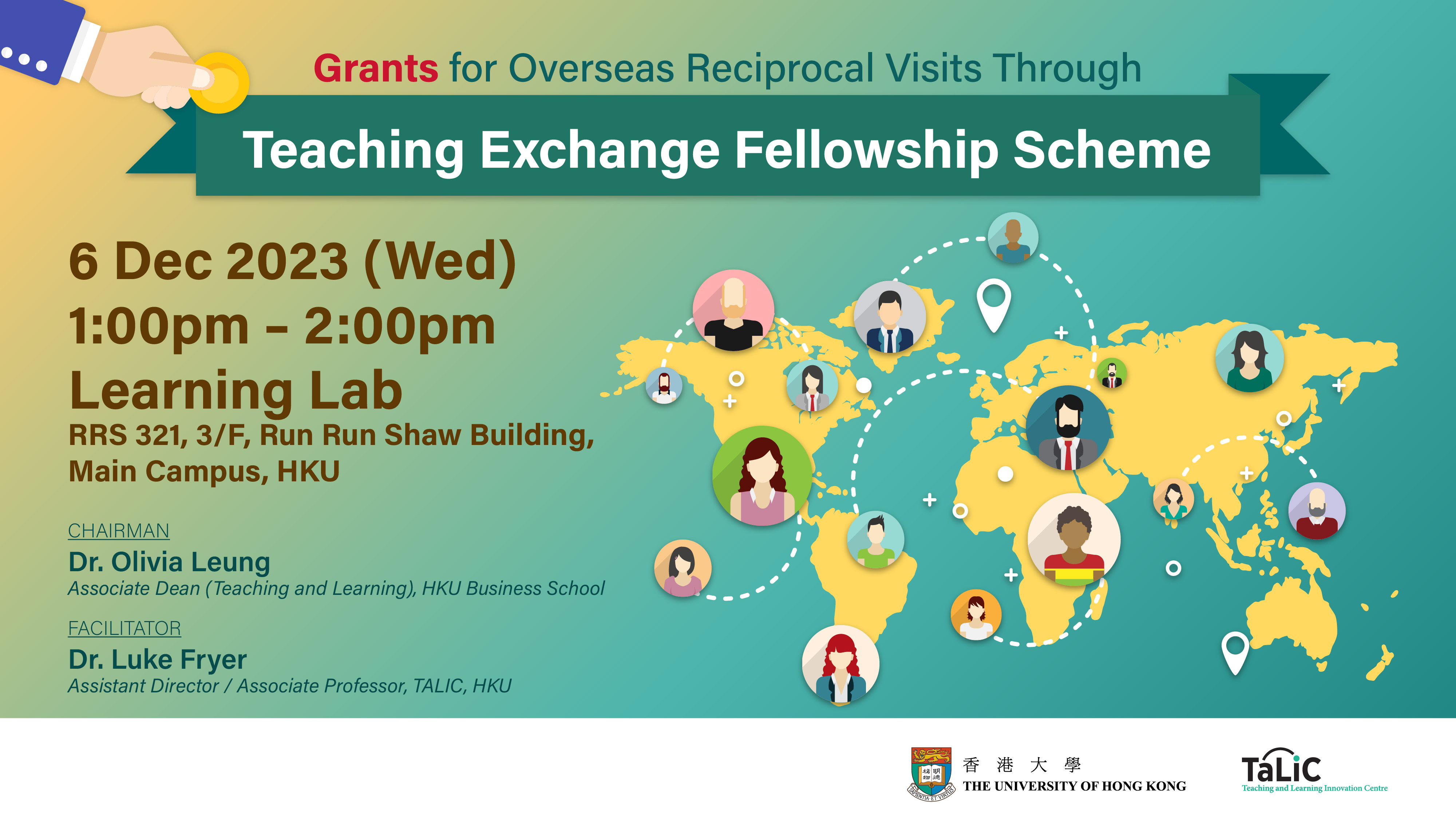 Organised by Teaching and Learning Innovation Centre (TALIC)
Details of the workshop:
Date : 6 December 2023 (Wednesday)
Time : 1:00pm - 2:00pm
Venue : Learning Lab (RRS 321, 3/F, Run Run Shaw Building, Main Campus, HKU)
Chairman : Dr. Olivia Leung, Associate Dean (Teaching and Learning), HKU Business School
Facilitator : Dr. Luke Fryer, Assistant Director / Associate Professor, TALIC, HKU

Abstract
Grants for overseas reciprocal visits through 'Teaching Exchange Fellowship Scheme'
To encourage HKU staff to introduce new ideas and innovative teaching methods by engaging with teachers from overseas universities, HKU has established the "Teaching Exchange Fellowship Scheme". Under this scheme, HKU will provide funding up to $50,000 for reciprocal staff visits and a teaching relief grant of up to $60,000 may also be awarded to successful applicant's department.
A seminar will be organized, open to all teaching staff, to offer a comprehensive overview of this funding scheme. The seminar aims to provide information on key objective, funding amounts, eligibility and application process. Additionally, it will offer valuable advice on preparing a successful application and guide participants on planning exchange visits to enhance the scholarship of teaching at HKU, which is the aim of the scheme. The seminar will also showcase examples, on how this funding opportunity can be used by HKU teaching staff to share experience and to collaborate on teaching and curriculum development initiatives with overseas reputable universities through reciprocal visits.
We highly recommend that staff who are considering applying for the scheme to attend the seminar. It will be beneficial for staff who attended the last seminar but didn't have sufficient time to establish overseas connections, as well as those who are planning ahead for next application cycle (having a Thursday, February 1, 2024 closing date), would also find the seminar useful. If you are unsure whether the scheme align with your teaching innovations, or if you simply want to learn more about it, you are welcome to attend. For further information, please refer to the Circular on this scheme available at https://tl.hku.hk/staff/tefs/.
For information, please contact:
Ms. Canice Mok, TALIC
Phone: 3917 6069; Email: tsmok@hku.hk​